Time and time again it's been said that women are not a viable market for comic books or video games. Of course, both you and I know that's simply not true, dear reader, but if you're at all like me, you still like to celebrate the times that statement is refuted. And, while the
Starfighter: Eclipse Kickstarter
isn't explicitly aimed at a female audience, I'm going count it raising over $110,000 at the time of this post (with 11 days left to go!) as one big win for the ladies.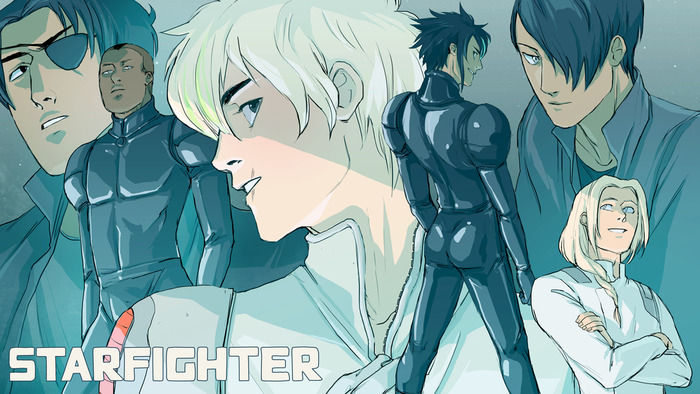 The
Starfighter: Eclipse
Kickstarter is helmed by none other than HamletMachine, creator of the original gay erotic sci-fi webcomic
Starfighter
. If you're not familiar with it, I highly suggest
checking it out,
but be warned, it's most definitely of the over-18 variety. The comic began in 2008 and has gained a devoted following due to its wonderful fusion of sci-fi drama, sexual tension, and of course, beautiful art.
As a long-time fan of the series, the announcement of a Starfighter Kickstarter had me at the letter "s," but the niche video game fan in me rejoiced to hear that it would be a visual novel, to boot! While details are being purposefully kept vague, it's clear that Starfighter: Eclipse will be a separate story from the comic, featuring new characters while maintaining the series' original cast. There will alsobe romanceable characters and the same steamy action the comic is known for, making this perhaps the closest to a boys' love visual novel we've ever seen officially in English. But enough about what I have to say on the subject – HamletMachine was kind enough to answer a few of my questions about the project, so let's hear what she has to say!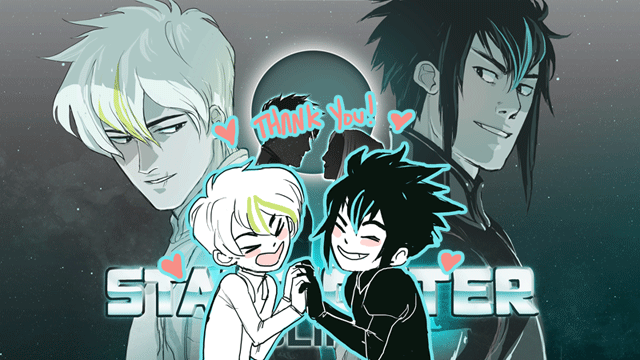 First, congratulations on the successful funding of the Starfighter: Eclipse Kickstarter! What made you decide to turn your popular webcomic into a visual novel?

Thank you! I think Starfighter's set-up really compliments the visual novel format as far as the comic's focus on character interaction.. it's something I had been thinking on for some time now as I have been making the comic.
You've recently announced that chapter 4 is the last chapter of Starfighter. Do you view the game as a way for fans to get to stay in that world a little longer?
Oh yes, this is a whole game full of new Starfighter content, so hopefully this will be a nice big EU fanfic for everyone to enjoy.
Why did you choose to create Starfighter: Eclipse using Date Nighto's VNengine instead of a more traditional visual novel software such as Ren'Py?
It was really important to me that the game be easily accessible to players and Date Nighto's htmlVN was the perfect solution to deployment details we were considering when we were conceiving our vision for the game!
(there's a great article on Date Nighto and the Starfighter Kickstarter over at Polygon if you're interested in learning more!)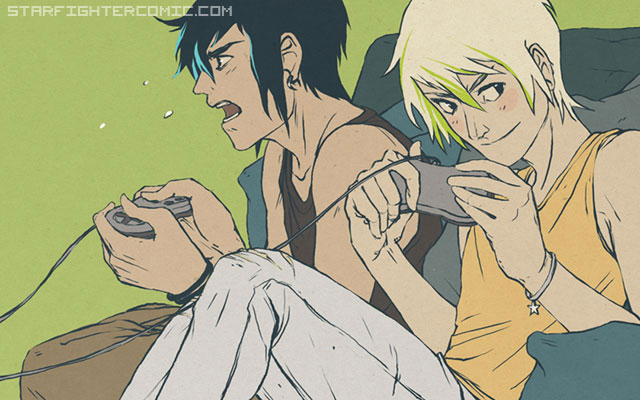 It's clear from your webcomic that homosexual romance is a big theme. Are you inspired by yaoi/BL? Is there a reason you chose not to call Starfighter: Eclipse a "yaoi" VN?

Yes, I am very influenced by these genres; I love the combination of drama, emotional focus, and sexual content. While the
Starfighter
comic is in many ways a nod to these genres, I hope it's also a bit of a personal departure from it as well.
Starfighter: Eclipse
isn't directly referred to as yaoi for a few reasons, but also to avoid confusion – "yaoi" is still very much a niche term and not everyone knows what it means, saying something like, "male romance" is more clear about what the game is about!
While you mention in the Kickstarter description that there will be an emphasis on character interaction, there isn't any indication of how many characters will be "pursuable." Are you envisioning multiple endings and romantic possibilities, or is there a specific story you would like to tell?

Oh yes, there is a specific story to tell in Eclipse! I am envisioning multiple endings for different characters but I'm afraid I don't want to spoil too much of the story! You can expect to interact with some of the familiar faces of the Starfighter comic plus some new ones.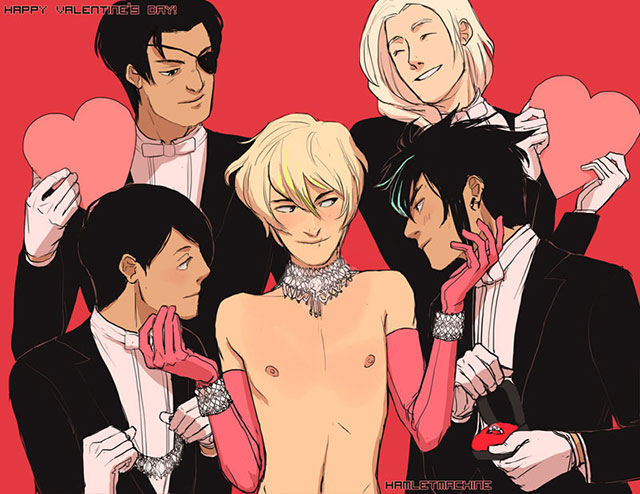 Thanks again to HamletMachine for taking the time to chat with me, and a huge congratulations to all involved in the Kickstarter project! I am absolutely thrilled that a project like this is seeing such overwhelming success, and hopefully as a result we'll continue to see more varied game (and comic) endeavours with female interests in mind popping up in Kickstarter or elsewhere.
But you certainly don't have to be a lady to enjoy
Starfighter: Eclipse
! If the project sounds up your alley, be sure to read the comic and back the
Kickstarter
before it closes on the 25th!