Considering
Monster Hunter
is one of the biggest game franchises in Japan, it should come as no surprise that Capcom would want to celebrate the series'
10th anniversary
this month with some special collaborations! It just so happens that I also picked the month of March to do a
Monster Hunter
Community Game-Along
, so what better time to drool over some exclusive Japan-only
Monster Hunter
goodies?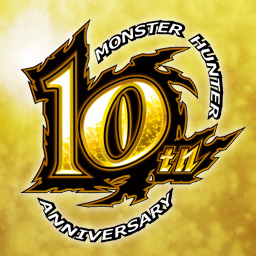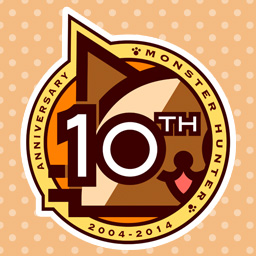 Of course, the biggest 10th anniversary event is, without a doubt, the Monster Hunter the REAL installation at Universal Studios Japan, which features "life"-size versions of the iconic monsters from the series. If you're lucky enough to be in Osaka from February 1st to May 11th, then you may privy to some of these cool/adorable sights: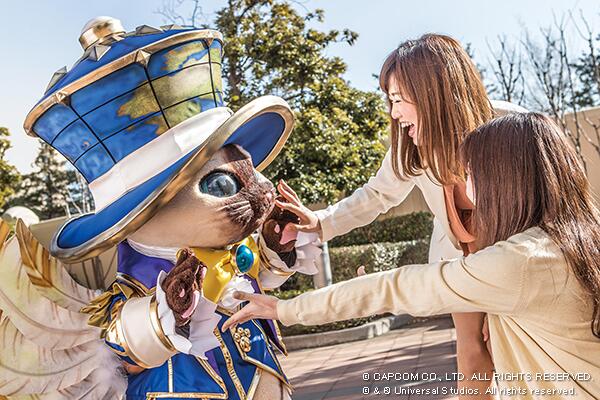 A dapper, life-size Felyne!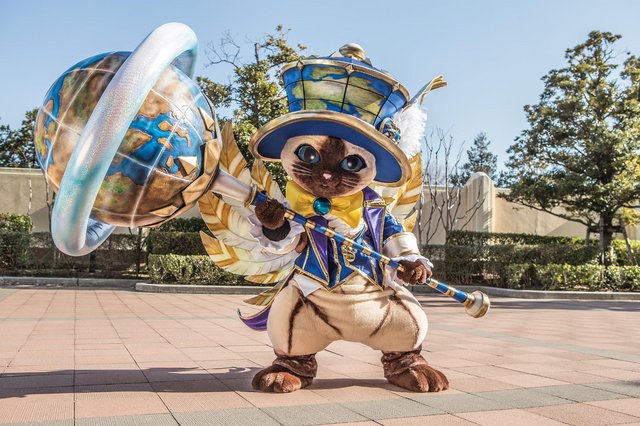 Such a detailed costume!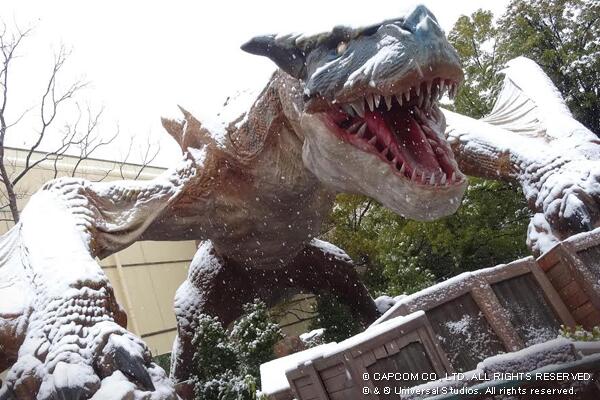 Tigrex covered in snow!
Of course, they've also got a tasty-looking Felyne treat: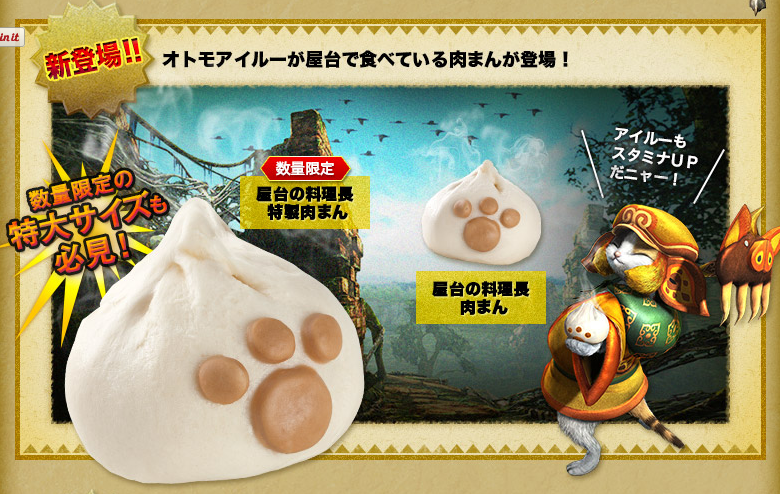 Felyne nikuman (steamed meat bun)!
There will also be a variety of limited edition goods that only those who attend the event at USJ will be able to purchase, such as a backpack designed to look like
Monster Hunter 4
's new insect rod, Felyne chocolates, and an adorable Felyne statue. You can view all the items in the collection at the
official website
!
Perhaps even more interesting than the limited Universal Studios Japan items, though, are the Monster Hunter-themed food products that will be gracing the shelves of regular convenience stores. Check these out: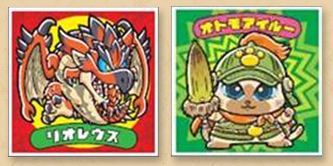 First are these Monster Hunter-themed Bikkuriman Chocolates! Not only do the packages have a great design, but they come with one of 24 different Monster Hunter stickers for devout fans to collect. The chocolates go on sale on March 25th, and I know I'd love to get my hands on a couple!


Next are a whole slew of special Dodekamin Great energy drinks! The contents aren't any different than usual, but there are certainly tons of designs to collect! I'm definitely partial to the Felyne designs, of which they are four – one side features a cartoon-y illustration, while the other a more "realistic" Felyne. The 10 game designs below, however, feature a different monster to celebrate each different game released over the series' 10 year history! Pretty cool, but that's a lot of Dodekamin Great to drink if you want to collect one of each design! These drinks will be debuting on March 18th.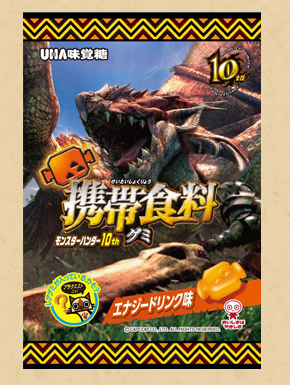 There are many more collaborative items I haven't even begun to cover, like these
Monster Hunter
gummies, so if you like to torture yourself by looking at things that will never be available outside of Japan like me, head on over to the
official Monster Hunter 10th anniversary website
!
I should probably start planning my trips to Japan around these sorts of events…