Anyone with even a passing interest in Japan has probably heard of maid cafés, but did you know they also have butler cafés? I've summoned the courage to investigate a maid café once before, and ever since I learned that butler cafés also existed, I knew I had to check one out someday. Unfortunately, Osaka doesn't appear to have any permanent butler cafés (I'm told they sometimes do
"pop up" butler cafés at events and such), so I decided to settle on a cosplay café that featured both male and female staff.
When we actually arrived at the café, however, I was mildly disappointed to find that even the staff cosplaying male characters were women! In fact, looking back at the "members" page of the website, it's likely that all of the staff are actually women. Whoops!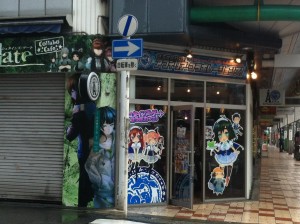 2.5D Dimensions Café Afiilia Collaborations… Quite a mouthful!
Upon arriving, my cohorts and I were surprised to see that the café was all decked out with Steins;Gate images… Turns out the café was in the middle of a Steins;Gate collaboration event running from April August. If it hasn't become glaringly obvious, I really didn't do my research before choosing this café as a destination. See, I actually know next to nothing about the Steins;Gate game or anime!
I must admit, it's rather embarrassing going to a cosplay café in the first place, but that embarrassment is multiplied infinitely when you don't even know the characters the staff are cosplaying as!
Mayuri, the gal in the center, and Kurisu, the one to her right, were both there during the hour we spent at the café, as was a Faris cosplayer (not pictured). Yes, I had to look up each and every one of those names and yes, that's a Itaru cosplayer on the right. You had to pay extra if you wanted to take photos of them, but I mistakenly thought that also meant you weren't supposed to take pictures of the café itself, so all of the following images were taken with my phone. Sorry about that!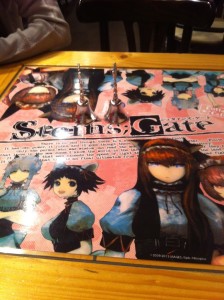 After explaining the surprisingly complicated rules of the café (you had to pay by the hour just to be there, and were required to order at least one drink), the Faris cosplayer handed us each a bell and lead us upstairs to the seating area. Of course, literally everything was decked out with Steins;Gate images. The bell was used to summon staff, both when you wanted to order or just wanted to chat. I accidentally rang one of the bells after we ordered and we were treated to a fairly lengthy and rather awkward conversation with the Mayuri cosplayer.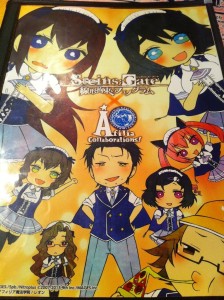 The menu cover
The
Steins;Gate
portion of the menu consisted of both alcoholic and non-alcoholic character-inspired drinks and a number of whacky overpriced food items (some of which are in the staff photo above), but my posse and I decided to stick with just drinks. Knowing nothing about the characters themselves, I ordered the alcoholic
Rintarou
drink in the top left corner because I was intrigued by the fact that it contained root beer (root beer is notoriously unpopular in Japan). It was pretty good! I would've liked to try more, but the drinks were rather expensive, so for the sake of my wallet I decided to save my pennies for the retro game shops.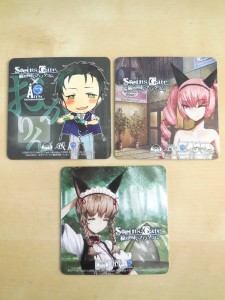 We received a random Steins;Gate coaster for each drink ordered. Apparently they're only available at Steins;Gate cafés! And guess what? I've decided to give one of them away!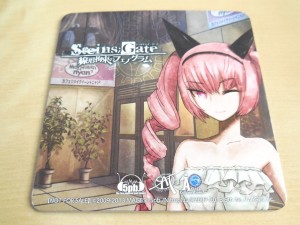 Steins;Gate fan or not, comment on this post by Saturday, July 27th at 9 pm EST for your chance to win this adorable Faris coaster! And, if you share a link to this post on Facebook or Twitter and leave a link to it in the comments, you'll get a second entry! I'll select one random winner on Sunday the 28th. Good luck!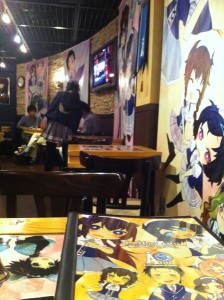 I was rather proud of my sneaky photography skills here – you can see one of the cosplayers chatting with a patron in the background (fun fact: aside from myself and my friend, everyone else in the café was male).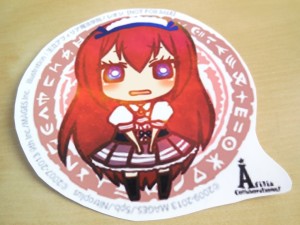 If you spend over 3,000 yen (approximately $30), you'll receive a special character sticker. Unfortunately, the quality of the sticker itself isn't all that great… but it's cute, none the less!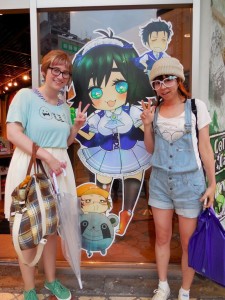 All in all, the café was a lot of fun! Many thanks to my friend Saori for suggesting we check it out! Now I feel obligated to learn more about Steins;Gate…
Note: The Steins;Gate game is getting an official English release courtesy of JAST USA!