It may sound cliché, what with the many Final Fantasy games being highly regarded for their soundtracks by nearly everyone in the gaming community, but I definitely count Nobuo Uematsu as one of my very favorite composers, regardless of genre. Though he hasn't been composing nearly as many game soundtracks in the past few years as he did in his Final Fantasy heyday, I still like to keep an eye out for his latest projects. As such, I was pleasantly surprised when I heard the news that he would be publishing a picture ebook, and in English, no less!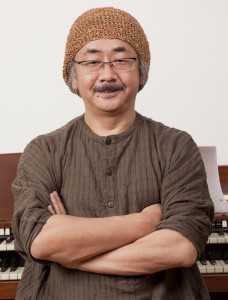 This is definitely a guy I'd like to meet someday!
As it turns out, the recently-founded jack-of-all-trades localization company acttil (stands for "acceptance," "creativity," "teamwork," "trust," "innovation," and "love") will be publishing Uematsu's ebook, titled Blik-0 1946 on iOS devices next month for $9.99. The entire picture ebook was written by the man himself, and the iOS version will include three musical tracks to give the while experience that real Uematsu feel (the upcoming Kindle release will not include the songs). The illustrations are by Uematsu's colleague Hiroki Ogawa.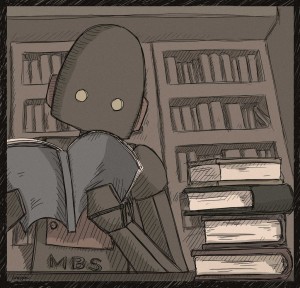 Even robots love to read!
The story is about a robot built to feel human emotions that tries to make sense of the world around him. While the premise doesn't sound particularly revolutionary, I really like what Uematsu has to say about the book: "I wanted readers to recognize the happiness you can find in everyday life, which you often ignore because they are too close to you, and the importance of kindness and respect to others." Sounds like a heartwarming story that should be a pleasure to read! I can't wait to hear the tracks he composed to accompany it.
If you want to stay updated on Blik-0 1946, you can do so by heading over to its Facebook page.