Two weeks sure flies by when you're having fun! As I mentioned in my last post, I've been off enjoying the wonderful land of Japan, where my days were filled with (mostly) eating and shopping. But I did manage to sneak in a couple of other activities, too! Thanks to all who followed my adventures on Twitter and Instagram, and I'm very sorry I wasn't able to upload at least a post or two while I was away. Alas, the internet did not cooperate! But now that I'm back, I have all the resources I need to give many photo-filled accounts of my adventures… starting with this post!
My plan of attack is to publish a series of themed posts that will likely consist mostly of a few places I visited and items I purchased (you can expect a full Pokémon Center Osaka report, for example), but I wanted to start by doing a brief overview featuring a few of my favorite events and photos from the trip!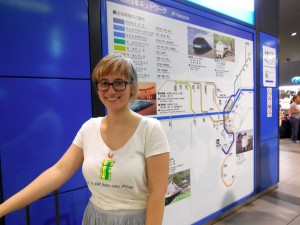 Waiting for the JR train to take us to Yasu after a long flight. Sure, it's not the 24+ hour trip that was required to get to Japan back when I lived in the US, but it's still tiring! The flight from Brisbane is nine hours, but luckily there's only a one hour time difference.
We had a relaxing first day seeing the sights in Yasu. This is a lovely cafe that looks right out onto Lake Biwa, Japan's largest lake.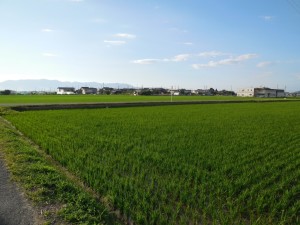 My host family's new house is surrounded by beautiful rice and barley fields!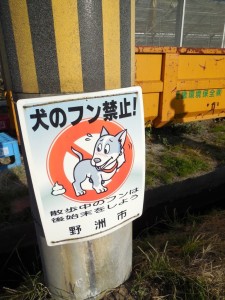 Japanese signs are always so fun. I don't think you need to understand Japanese to get the meaning of this one!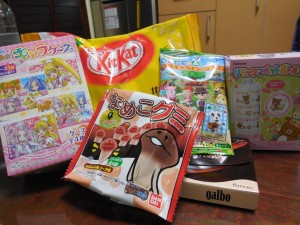 First of many candy hauls. Check out the Funghi and Animal Crossing: New Leaf gummies! I was disappointed by the Kit Kat selection, but still managed to find a few interesting flavors. The yellow bag pictured is passionfruit "otona no amasa" Kit Kats. I'll be sure to write full reports on all of these candies (and those not pictured) over the next few weeks.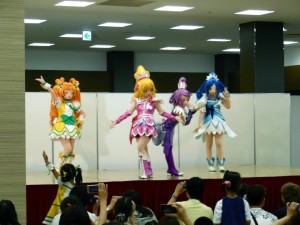 I never thought I'd say this, but I actually went to a live-action Doki Doki! Pretty Cure show! Pretty Cure is a long-running series of magical girl shows for young viewers (think Sailor Moon, but for a slightly younger audience), and Doki Doki! Pretty Cure is the season currently airing in Japan. I wouldn't say I'm really much of a fan, since I've never even watched the show, but as a massive Sailor Moon buff, I thought it would be a waste not to go see this local show where the performers act along to pre-recorded audio while wearing some ridiculously creepy masks that make them look like living anime characters. I even recorded some video!
Yep… creepy, but still fun!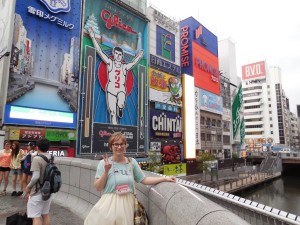 I had to take a picture of myself in front of the famous Glico man when we got to Osaka.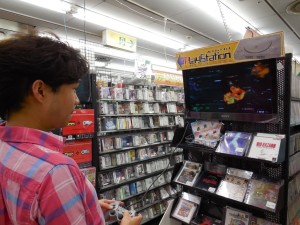 Shaun putting his Einhander skills to the test at a retro game shop in Den Den Town.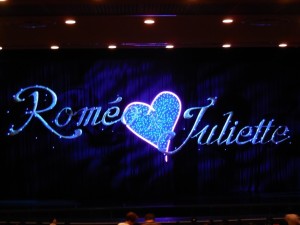 Of course, seeing a
Takarazuka Revue
show was at the top of my list for this trip. I wasn't initially excited to see yet another rendition of
Romeo and Juliet
, but I actually quite enjoyed it!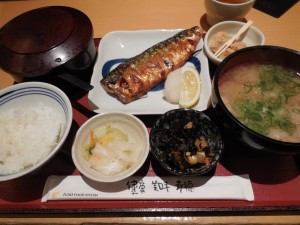 It goes without saying that we ate lots of delicious food! I'm a big fan of grilled mackerel.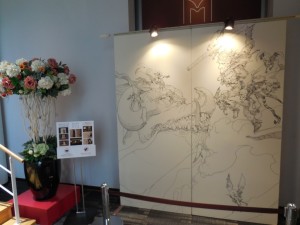 Went to the Kyoto International Manga Museum to meet up with some ladies I met at a conference in Melbourne. Also got to see this amazing Katsuya Terada exhibit, including this piece that was drawn specially for the museum!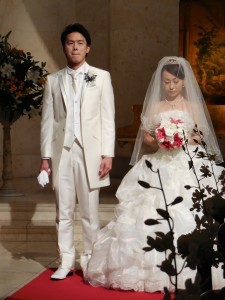 The big event of the trip was my host sister's wedding. I'm so very happy for her! The ceremony was lovely. For a moment Shaun and I wished we did an all-out wedding like theirs, but it was a fleeting thought! I'm happy just to attend someone else's.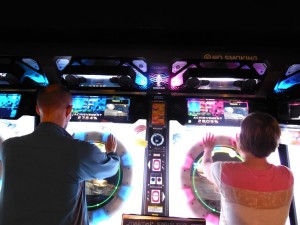 I also met my Twitter pal @Zolbrod, who you may remember penned a great write-up of his Hello Kitty donut experience for me back in April. It was great to chat over lunch and play this whacky rhythm game together at the local arcade! It even had some Sonic songs.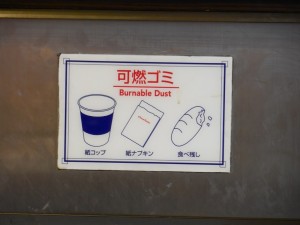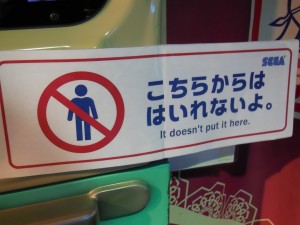 What's your guess for what this sign is trying to convey?
And of course, Japanese signs still can't manage to use anything resembling proper English. Are you even trying, Japan?! (let's not forget the "duck meal tea"…)
Well, there's definitely more to cover, but I'll stop here before I overwhelm you all with too many asinine photos. I'm sad to be back in Australia, but I have high hopes that I will get back to Japan in the next year or two! In the meantime, I have plenty of games and manga to keep me busy…