Welcome back to another installment in my never-ending Animal Crossing: New Leaf adventures! This week started with an unexpected surprise…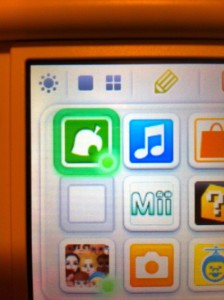 An Animal Crossing: New Leaf StreetPass, in the wilds of Brisbane?! I couldn't believe my eyes! To be more exact, I brought my 3DS in to the University of Queensland with me one day and I picked this up somewhere along the way. Who could it be?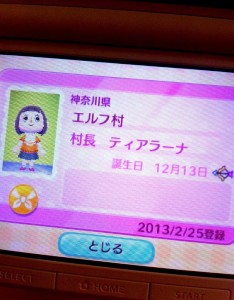 It's Tirana of Elf Village! Considering I don't live in Japan, I think it's pretty amazing to have even gotten an Animal Crossing: New Leaf StreetPass in the first place. Given her name, I assume she's a westerner who imported the game, rather than a Japanese resident visiting/studying in Australia. The above player card tells me she just started playing on February 25th and… has the same birthday as me?! That's one uncanny coincidence!
Let's take a look at her house: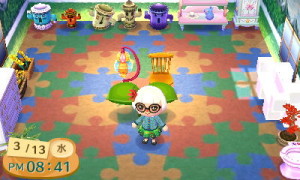 Since she just started playing a couple weeks prior, it makes sense that she's only done one house renovation and is pretty sparse with her furniture. I'll admit, I'm a little embarrassed at the state my own abode is currently in… (I pretty much use it as a dump – one day I'll decorate with a cohesive theme in mind!)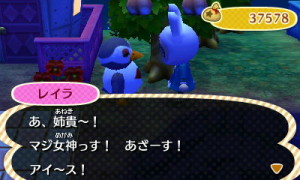 Just like last week, I had another entirely new interaction with one of my villagers. This week, Layla asked me to to sell her one of my shirts, but I actually had the option to give it to her for free! And give it to her for free I did. She was quite happy, even going so far as to call me a "saint"!
That's one happy penguin!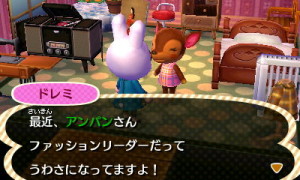 The White Rabbit outfit I picked up in the Alice in Wonderland-themed village I visited last week was a hit with the townsfolk. According to Doremi, there're rumors going around that I'm quite the fashionista!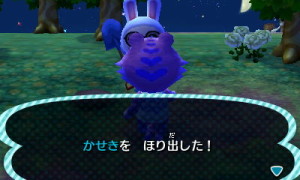 Sometimes I can't help but laugh at the goofy situations that play out. Here I just dug up a fossil, but Marilyn got her big noggin in the way of me showing it off.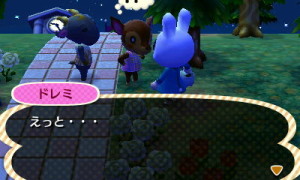 I love this screenshot – Doremi's got an the audience waiting for her to spill the beans!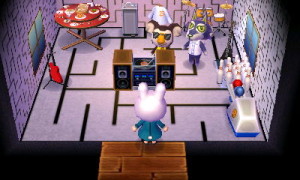 This isn't the first time I've walked in on two villagers hanging out, but upon talking to Rocky, I learned something very interesting about his relationship with Bunjirou…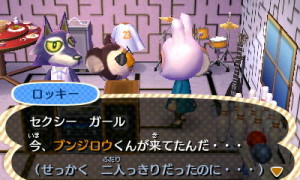 Translation: "Sexy girl! Bunjirou's visiting… (And just when we were finally alone…)")
Why Rocky, I never knew you swung that way! If I did, I certainly wouldn't have made your catch phrase "sexy girl"! I know this very well could not be an intentional gay innuendo, but with the immense attention to detail spent on every other aspect of the game, I'd find it hard to believe that the developers didn't think of the implications of this dialogue choice for a male villager referring to another male villager. Well, in Mamemura canon, Bunjirou and Rocky are officially an item!
Finally, I decided to make a trip to the Pokémon Red/Blue-inspired town that was recently featured on
Tiny Cartridge
. Here are a few shots I took while there: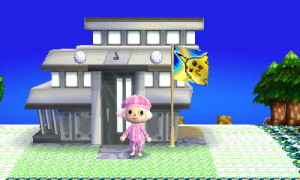 Cute flag! Also, what an odd town hall design…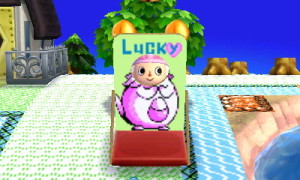 I grabbed the pattern for this one on my way out! It's too cute!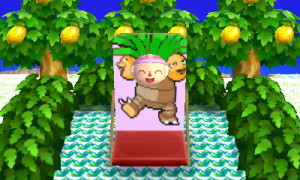 This Exeggutor looks right at home in a lemon grove! For some reason I really like how the lemons mirror their big yellow faces.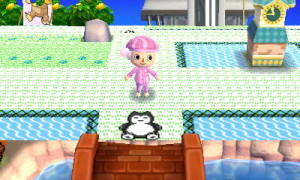 A sleeping Pokémon blocks your path! What a great touch.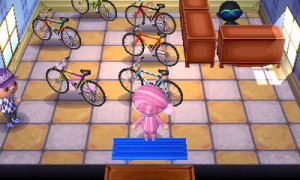 And finally, the iconic bicycle shop!
That's it for this week, but stay tuned for future updates! As always, I'm always open to answering any questions you may have about the game, so ask away in the comments.