I'll tell you, Japan sure knows how to sell me food. From Rilakkuma Kit Kats to Totoro Cream Puffs, they know exactly how to appeal to my love of cute mascot creatures to ensure I'll never stop craving their adorable sugary confectionaries. This time, Japan-wide donut chain Mister Donut has teamed up with Hello Kitty to offer the cutest range of donuts in existence: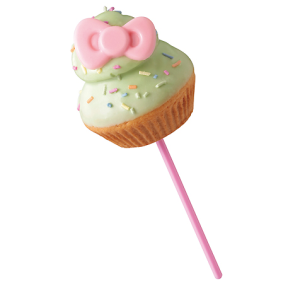 Now, maybe I'm easily amused, but I really do love the simplicity of this campaign – all they've done is add a little pink (I assume chocolate) bow to some nicely-colored donuts and it's instantly recognizable as a tribute to Hello Kitty. According to this article, the cupcake on a stick shown above (more colors can be seen if you follow the link) were designed with the Universal Studios Japan ride Hello Kitty's Cupcake Dream as inspiration and will be available in green apple, strawberry, and orange flavors. There will also be four regular donut varieties, including "green apple whipped cream," "green apple fashion," "orange crème fraîche" and"pon de strawberry." I think the question on everyone's minds is: What on earth does "green apple fashion" taste like?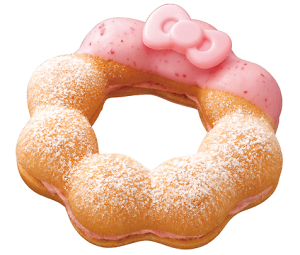 I'm most interested in this pon de strawberry! I bet it's just as tasty as
it looks.
In addition to these adorable donuts, the misdo HELLO KITTY campaign (that is the official name, capitalization woes and all) will be offering some limited-edition headphone jack accessories for customers who purchase 600 yen (approximately $6.20USD) or more worth of Hello Kitty donuts: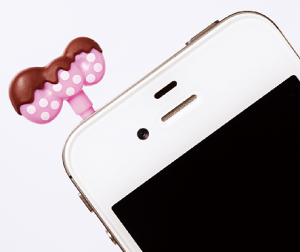 Also available in black, white, and red! (link)
I've always thought headphone jack accessories were a bit silly, but I don't know if I can resist a polka-dotted Hello Kitty bow dipped in chocolate. If I could, I would buy the five or so donuts required to get said accessory, and I would enjoy every minute of eating all five or so donuts by myself. But alas, the campaign runs from April 1st until the end of May, which means I won't get a chance to try them myself when I go to Japan in June…
So, what do you think? Is the misdo HELLO KITTY campaign a stroke of genius, or just plain weird?