Japan has the art of cute edibles down to a tee, if you ask me. Not only do they have everything from Dragon Quest to Sailor Moon-themed cafés, but there's an edible version of practically ever Japanese character you can think of! Case in point:

Shiro-Hige's Cream Puff Factory! They specialize in none other than Totoro cream puffs. They're almost too cute to eat!
I love how the one on the left is looking upwards!
The different things on their heads represent what flavor's inside, too. The regular green leaf is the straight-up vanilla cream custard, while the brown leaf indicates a seasonal chestnut flavor available from October through December. In addition, there's strawberry cream (pink flower), peach cream (hat with a pink ribbon), and chocolate cream (hat with a blue ribbon). They've even got a special Christmas Totoro: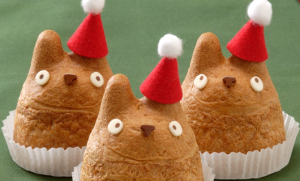 I think I need to make a special trip just to eat these. I mean, even the storefront and map found on the website oozes charm (the shop's location is indicated by a white Totoro!):

Definitely make sure to stop here if you're in Tokyo!
That's it! Time to plan my next trip to Japan.