I suppose we all knew it'd happen eventually, but if you haven't heard, Theatrhythm Final Fantasy will be coming out in the US and Europe sometime this summer! How's that for great news? To celebrate, hit the play button on your favorite Final Fantasy track and take a look at some of this awesome merchandise I managed to wrangle up!
First of all, I have to say I've been warming up to the cutesy art style used in the game. It first appeared in a Kingdom Hearts cell phone game in Japan, and I never found myself very partial to it… But the more I see, the more I find myself starting to like it. I mean, who can resist drinking their favorite beverage of choice out of one of these Theatrhythm mugs?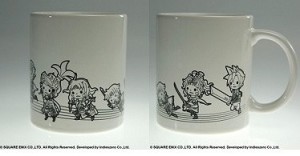 You can purchase it online here!
Or how about a tumbler, for when you'd rather your drink available on the go?
I personally like the color on the tumbler, but prefer the simplistic design of the mug. But it's hard to pass up chocobos!
But better yet, perhaps you already have a trusty water bottle you'd like to spruce up a bit? In Japan they have bottle cases like these all over the place:
Love the addition of the plush music note!
There is certainly a lot of drink-related Theatrhythm Final Fantasy merchandise, isn't there? But never fear, the usual cute keychains have also made an appearance: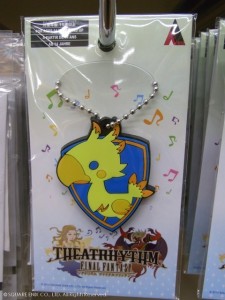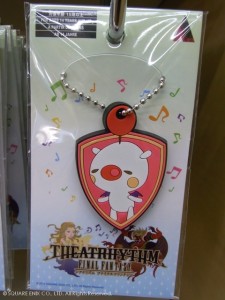 I'll be honest – that's not my favorite Final Fantasy moogle design (I'm actually partial to the more rabbit-like moogles from the Ivalice Alliance titles, but don't tell anyone I said so), but the chocobo is pretty darn adorable. I particularly like the contrast of the yellow and blue.
And last but not least, we have a special item that I could only find on Kuma's Mad Dog Blog, a Square Enix blog dedicated to their merchandise (the previous two photos were also taken from there):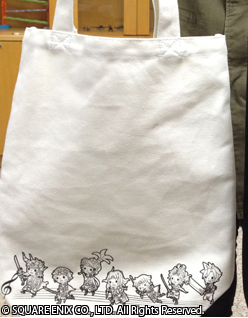 A tote bag?? Better yet, an unreleased tote bag?? It's a little known fact on the internet that I am actually obsessed with tote bags. They're good for groceries, books… everything, really! Ok, I'm a little obsessed. But I do love something that's both cute and functional, and tote bags really do fit the bill. According to Kuma's Mad Dog Blog, where this image was posted on March 15th, it's a brand new item, and currently no more information is available, so we'll have to wait and see when and where this is released. Admittedly, it is a little on the plain side, but I think owning a Theatrhythm Final Fantasy tote bag trumps all. I think I'm going to make it my personal mission to make sure I get my hands on this lovely thing.
Do any of these items catch your fancy? What would be your ultimate Theatrhythm merchandise? I wouldn't mind some stickers…