It's no secret that I'm enamored with the Monster Hunter series mascot Felyne. Admittedly, I have yet to actually play a Monster Hunter game (though I do own one), but I most certainly keep my eye out for all things Felyne. Cute is my calling, after all!
So when I saw Sanrio announced that they would be producing a special line of My Melody and Felyne merchandise that will hit Japanese stores starting in August, how could I not be excited? I mean, look at these designs:
I have to say I've never been a huge fan of Kuromi (the back and white one), but man, those pink and brown critters are to die for. I particularly like the left design, which is a Felyne dressed up as My Melody, if you're wondering. I'm not sure what it is about animals wearing other animal's faces that is so endearing, but believe me, I am sold.
Monster Hunter Diary G already had some My Melody downloadable content last year, so this crossover is by no means a surprise. Now, however, legions of men, women, and children across Japan will be able to purchase Felyne and My Melody in the form of accessories, clothing, stationary, and probably just about anything you can imagine. For an idea of what the goods will look like, check out this Hello Kitty x Felyne series that ran last year: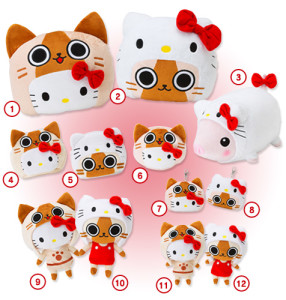 It's good that I'm learning about this so far in advance… I'll have plenty of time to arrange how I'm going to get my hands on a Felyne x My Melody plush!
Do any of these designs tickle your fancy?