First of all, I have to apologize once again for the huge gap between posts! My husband and I flew down to Sydney for Chinese New Year and instead of catching up on things I needed to do, I completely zoned out and didn't do anything but eat and play through Rayman Origins a second time with Shaun and his sister (I think I've had enough now).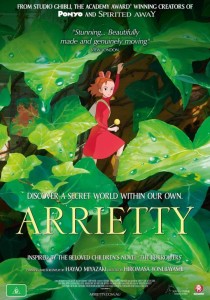 This is a long time coming, but a couple of weeks ago Shaun and I made the 5 minute trek to the movie theater (one of the many perks of our new apartment) to see Studio Ghibli's Arrietty (Japanese title: 借りぐらしのアリエッティ, also known as The Secret World of Arrietty in the US) over opening weekend. As always, the rest of the world is a bit behind Japan – Arrietty originally aired in its home country back in July 2010, and the most recent Studio Ghibli film, From Up on Poppy Hill, aired this past summer in Japan. For once, Australia was ahead of the game, with the film releasing here a whole month before it debuts in the US on February 17th.
Arrietty (I will refer to it by the Australian title since that's the version I saw) is based on Mary Norton's classic novel The Borrowers, about a family of extremely tiny people who live beneath a normal-sized family's house. They survive by scavenging what they can from their surroundings and "borrowing" things from regular humans, only taking what they are sure will not be missed such as an extra tissue or a safety pin that has been lost and forgotten beneath a dresser. Interestingly, this film marks the directorial debut of Hiromasa Yonebashi, a key animator of a number of Studio Ghibli films and the youngest director of a Studio Ghibli production to date. He also was the key animator of Serial Experiments Lain, one of my favorite anime!
Since the subtitled version wasn't shown anywhere in our area, we had to settle with the British dubbed version. The film has been licensed separately for the US and Europe/Australia, the so English voice actors are completely different for the two regions. Honestly, given the film's beginnings as a British novel, I found it quite refreshing to hear the characters speak with non-American accents. There were a handful of times where the localization felt odd to me, but that could have been due to the British influence. I look forward to hearing the original Japanese language track when the film comes out on DVD.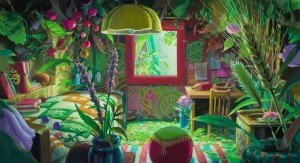 Can I have a room that looks like this?
Unfortunately I haven't read The Borrowers, so I can't comment on how it compares to the book, but if it's anything like Howl's Moving Castle, you can expect a pretty liberal interpretation. Fans of My Neighbor Totoro will be right at home in the lush, green environments and relatively slow pacing, where those who prefer the unique locations and higher level of action in Spirited Away or Princess Mononoke may find this Studio Ghibli offering a little too "mundane." I found myself highly appreciative of the attention to detail put in to making the world look believable from the eyes of a Borrower. From stamps serving as paintings in the tiny house to the variety of insects Arrietty interacts with over the course of the film, everything felt fresh and different and was a joy to see come to life with Ghibli's signature flair.
One of my favorite scenes in the film had to be when Arrietty meets Sho, a sick boy sent to rest at the house about Arrietty's home, up close for the first time. Arrietty is on her first borrowing excursion with her father, and one of her tasks is to grab a tissue out of a tissue box on Sho's bedside table. The moment of confrontation – Arrietty looking up to see Sho's wide, bright eyes staring directly at her, was startling for both her and me as a viewer. Watching Arrietty try in vain to hide behind the tissue (a background light illuminates her body quite clearly) was both endearing and heartbreaking – she knows she is never supposed to be seen by a human, and she is disappointed by her failure during her first trip out with her father.
The music in the film was not done by regular Ghibli composer Joe Hisaishi, but newcomer Cécile Corbel, a French musician who is reportedly a big fan of Studio Ghibli. Apparently, she sent them a CD of her songs as a fan, and the company was intrigued by her work and subsequently invited her to do the soundtrack for Arrietty. Sounds like a fairy tale story, eh? She did both the theme, titled simply "Arrietty's Song," as well as the rest of the background music. The Celtic themes really mesh well with the general feel of the film, and though I was a little miffed by the silly English lyrics of Arrietty's Song ("I am fourteen years old, I am pretty"? Did a fourteen-year-old write it?), I still found it very enjoyable. The full English version is what accompanied the version of the film I saw, but the majority of the song was in Japanese for the original film.
All in all, I really enjoyed Arrietty. I've heard criticisms that it was too slow, or simply not as amazing as previous Studio Ghibli films, but frankly, if you are at all interested in Ghibli, you definitely need to see Arrietty on the big screen and decide for yourself. Some have compared it to My Neighbor Totoro, and while I don't think it quite surpasses the caliber of some of my favorite Ghibli films, it is definitely now up there at the top of my list. The animation and music were both gorgeous, and I found the story bittersweet and touching. If the company can churn out films this good without Miyazaki at the helm, I'm confident that even when he's gone they'll continue to make some of the best animated features the world has ever seen.