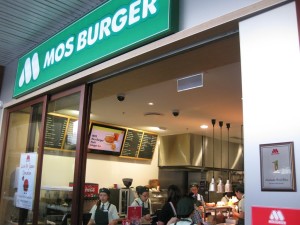 MOS Burger in Sunnybank, QLD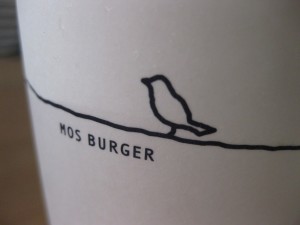 MOS Burger certainly isn't lacking in great design!
The minute I heard a MOS Burger had recently opened in the nearby town of Sunnybank, I knew Shaun and I would have to make a trip there as soon as possible. MOS Burger is none other than the single most popular hamburger chain in Japan after McDonald's, with its own unique twist on the traditional burger and lots of famous items on their menu you can't get anywhere else. They're most famous for their teriyaki chicken burger, which I honestly hadn't tried before this Saturday. Other notable items on their menu include a selection of rice-bun burgers, where the usual bread bun is replaced by two onigiri-like rice patties. According to the Japanese MOS Burger website, they have over 200 stores outside of Japan (all located in Asia), but the one in Sunnybank is the first in Australia. For those of you not from the area, Sunnybank is well-known as being a mecca for Asian things, so in many ways it makes sense that they chose to open a shop there rather than in the Brisbane CBD.
Though there were numerous other delicious eateries I frequented while I was living in Japan, I have many fond memories of the MOS burger near my host family's house in Nishinomiya. Since they were open late (later than the local McDonald's, I might add), I would often hang out there with friends after having a couple drinks at a nearby bar, or, since my house was only 5 minutes away, meet up with girl friends for a late-night chat over an order of fries. One of my first memories with my now husband was at a MOS Burger, even! I had the special, Osaka-only takoyaki (breaded octopus) burger and took many pictures similar to the ones I'm sharing with you now.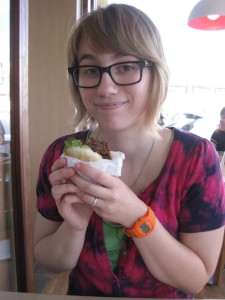 Enjoying my yakiniku rice burger. The rice buns are pretty tasty!
So, out of nostalgia's sake, my husband and I made the 45 minute trek out to Sunnybank on Saturday. What was supposed to be a 45 minute journey actually ended up taking close to 3 hours, due to some train closures and my inaccurate directions, but we made it there all the same.
Since the shop only opened at the end of March, the line has the tendency to get rather long. Had we arrived at lunchtime, I assume it would've been a longer wait, but since we got so lost and only arrived sometime after 2, that wasn't too much of a problem. We still had to queue up, but we probably only waited about 15-20 minutes, though the ladies at the counter taking orders did seem rather slow. I was psyched to get a curry croquette burger, but is was nowhere to be found on the menu. I'm sure they probably opted to go for a limited selection of the usual Japanese menu to start, and unfortunately for me the croquette burgers didn't make the cut. We were also disappointed to find that melon soda was nowhere to be found, and had been replaced with more popular Aussie alternatives. I ended up going for the rice yakiniku burger set with a Sprite, and Shaun ordered the teriyaki chicken burger set and a matcha latte. The total was a little over $20, and my set was about $8.50, if I recall correctly.
Fries that came with our burger sets. Love the logo on the bags and the serving baskets.
All in all, the experience was very much like one that you would having going to MOS Burger in Japan, with a few minor cultural differences. I thought it was cute that they also reused some of the original Japanese banners, though the painted wall designs were different from any I'd ever seen in a Japanese MOS Burger. The writing on the walls actually clued me in to the answer to one of my often-pondered questions: What exactly does "MOS Burger" mean, anyway? Well, folks, apparently the MOS stand for Mountain, Ocean, and Sun. There you have it!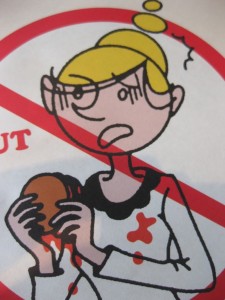 Adorable paper placemats warn you not to take your burger out of the bun to avoid spilling the special sauce everywhere
I'd definitely recommend anyone that has the chance to go pay the Sunnybank MOS Burger a visit, even if you've never been to one in Japan before. Nay, especially if you haven't been to one in Japan before! MOS Burger should be experienced at least once by anyone that likes a good burger. It's a little more expensive than your usual fast food fare, but all their food is made with fresh, local ingredients, and is quite a bit tastier, too. They even have a few soups and salads on the menu, though I have yet to try them. I really hope they are well-received and consider expanding to the rest of Australia in the near future!