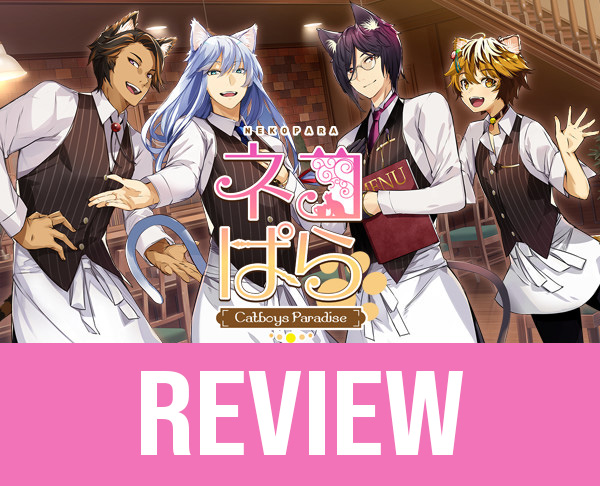 Neko Works, creators of the popular NEKOPARA series of visual novels about cute catgirls in cafes, made more than a few catboy fans very excited and then extremely disappointed back in 2019 when they revealed NEKOPARA – Catboys Paradise as an April Fool's joke. But two years later, in a surprising turn of events, Neko Works announced that they were making the game "for real" due to fan interest! The free game was released today and I've had the pleasure to play through all the routes. I'm happy to report that it is indeed very cute and earnest, showing that Neko Works can cater to catboy as well as catgirl lovers.
In NEKOPARA – Catboys Paradise, you're a young adult woman who has taken over running her late grandfather's cafe (sound familiar?). To help you run the cafe are four live-in catboy employees who apparently go to school to learn how to be good catboys and prepare for a life of being owned by a human. In terms of story, it's pretty rudimentary and really just a setting for you to watch cute interactions with the characters, as the game can be completed in 2 or so hours, depending on your reading speed. But despite this, I found myself surprisingly charmed by the four different characters and was really happy to find Catboys Paradise to be an earnest, polished experience despite its origins as an April Fool's joke.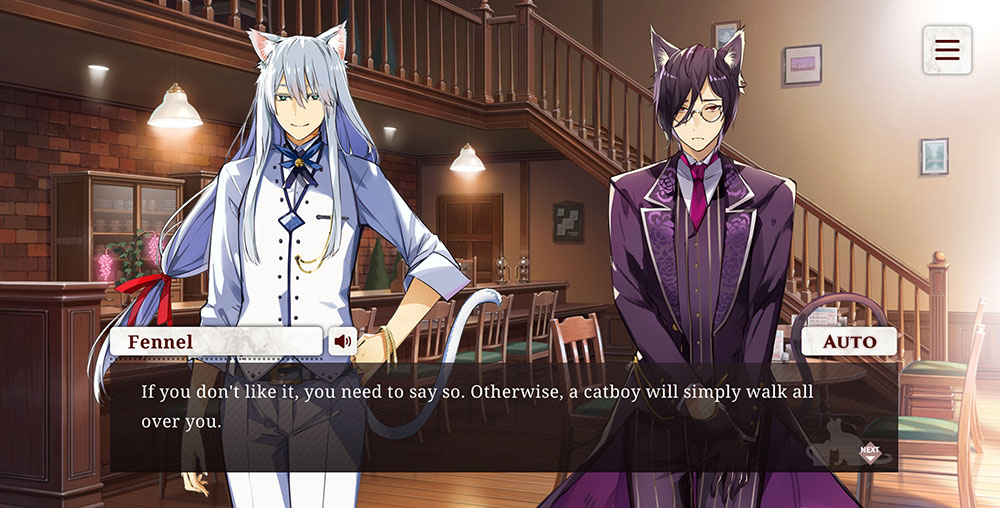 Of the four characters, I most enjoyed the route for "rare" male calico Dill, who loves fashion and makeup and is the "younger brother" type of the group. Fennel, the glasses-wearing butler-like cat who enjoys things like reading and Japanese history, was also a highlight. Each character has two CGs, and the routes involve getting to know them better as you and your employees learn the ins and outs of running a business on the fly. None of the routes have any real closure to them, but instead act as introductions to the world and characters, making the game feel almost like the prologue chapter of an otome game. Even so, the writing (with a solid English translation!), art, and voice acting were all so charming that I didn't mind playing through the equivalent of a video game candy bar (short and sweet!).
Catboys Paradise doesn't have any player choices outside of which character's route to read through, but it includes a fun variety of reactions from the player's perspective such as nodding in response to things the characters say. But since the experience is free and so short, I'll refrain from saying much more and encourage you to go check it out for yourself on PC, iOS or Android. Keep in mind that unlike the NEKOPARA games, which have adult content, this game is a completely PG experience.
I hope that NEKOPARA – Catboys Paradise does well for Neko Works and encourages them to do more content with male characters in the future! If they keep up this level of polish, they have the potential to make some really enjoyable titles.