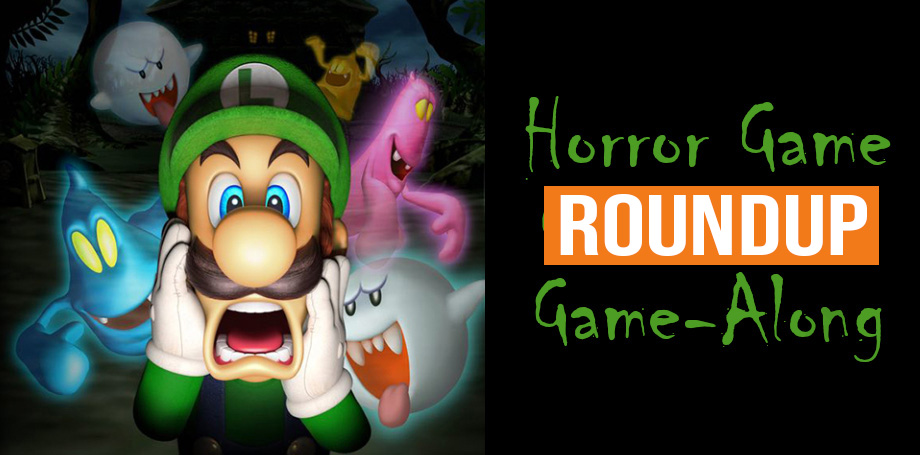 It's nearly the end of November, but I'm still lamenting the end of the October horror game Community Game-Along! It's always one of my favorite Game-Along themes, and I really enjoy seeing the huge range of scary or festive Halloween-y games people pick up to play.
In this post, I've rounded up some of the submissions people made using #HorrorGameOct on Twitter and Instagram! Read on to see what everyone got up to! You might just find a new game to add to your to-play list.
First up is the M Disk Gauntlet over at M Disk Playlist, which continued in October with Party 2, an RPG Maker title that sounds like it's super creepy! The blog post contains both a link to the playthrough and the game, which can be downloaded for free.
Meanwhile, @CapsuleJay at Tales from the Backlog played a whopping three games and reviewed them for his site: Little Nightmares, Bloodstained: Curse of the Moon, and Momodora Reverie Under Moonlight.
View this post on Instagram
Bryan at The Gay Gamer blog was extremely busy! He started the month by writing about 6 games he planned to play during the festive Halloween season. He also completed Sweet Home and wrote a post about it, and tweeted about finishing Creeping Terror, Super Mario Land 2, and Undertale. Finally, he published a piece about the 3DS remake of Luigi's Mansion and why he's kicking himself for not having played it before. Awesome job this month, Bryan!
Meanwhile, @Misanthrobob reviewed Death Mark for RPGFan and @or3con reviewed the Japanese horror game Tsugu no Hi over at Jhipst3er Gamer. Fuwanovel posted the results of a community poll of the top 10 horror visual novels available in English, which is a great place to start for some horror visual novel ideas. Pixel x Pixel co-host Marcus also shows visual novels some love by playing the horror visual novel Neighbor and reviewing it over at his blog Pixel Pacas!
There were a bunch of stream contributions, too! @ggc_chestnut did some Twitch streaming of Layers of Fear and Vampire: The Masquerade Bloodlines, and wrote about her progress in the Game-Along at her blog! You can check out the post for links to all of her Twitch stream archives. Also over on Twitch, @bunnycartoon streamed some of the Overwatch Halloween event, and Goth Team Epic streamed Laplace no Ma.
View this post on Instagram
@magikarpwow also went above and beyond in the contributions this month! She finished Luigi's Mansion for 3DS, Death Mark, Jake Hunter Detective Story: Ghost of the Dusk, participated in the Splatoon 2 Halloween Splatfest, and made it to Halloween Town in Kingdom Hearts! How's that for festivities?!
In terms of podcasts, The Go Back and Play podcast posted an awesome Resident Evil-themed episode for the occassion. I also talk about the Overwatch Halloween event and the Splatoon 2 Halloween Splatfest on Pixel x Pixel episode 3!
On Twitter, @catacatacaka played Mysterious Forum & 7 Rumors, @matsumint played Yomawari: Night Alone, @LVLYsan finished Angels of Death on Switch, @GideonZhi played Mansion of Hidden Souls, @Patricklous completed Zero Time Dilemma, and @vanilla_buns and @winterbluemochi played Creeping Terror. @winterbluemochi also played and completed the Switch horror hidden object game Disease!
Also on Twitter, @lunaterra_ made an extensive thread of indie horror visual novel suggestions, many of which are free! I highly recommend checking it out, especially if you're looking for something shorter to play.
19th #FinishedGame of 2018 is #LuigisMansion on #3DS for #HorrorGameOct and for #Halloween on October 31st pic.twitter.com/bh6D6FatUb

— キャプテンN (@Captain_N64) November 1, 2018
Finally, there were a few more game recommendations this month. @chlorokitty recommended Detention, which @jackal27 also played, while @marcusboi recommended The Cat Lady. @thearchkitty wholeheartedly recommended the otome game Bad Apple Wars, @camneliops80 and recommended Lake of Voices!
What an exciting month! Coming up in December is the doujin game Community Game-Along, dedicated to Japanese indie games! Check back in a couple days for the full introduction post, but in the meantime, you can check out my first doujin Game-Along post from 2014 for some game suggestions!