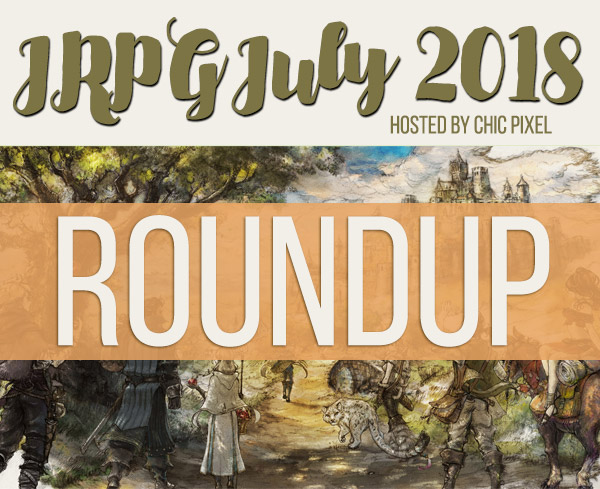 July marked the return of the JRPG Community Game-Along, aka JRPGJuly, and I dare say it was the biggest one yet! It's taken me quite a while to sort through all the contributions. Phew! Unfortunately, I'm not able to include everyone, so I highly suggest scrolling through #JRPGJuly on Twitter to see the massive range of games played throughout the month. Read on for some highlights!
First, as always, I want to give a huge thanks to the folks at RPGamer for continuing to spread the good word about JRPGJuly. Many members of their staff participated this year, and they posted both podcasts and weekly roundups about everyone's progress in their respective games. So cool!
Last day of July & I almost missed posting my #JRPGJuly pick. Started quite late but I'm now almost halfway through (I think..lolol) Atelier Lydie & Suelle! #JRPGJuly #AtelierLydieAndSuelle #NintendoSwitch pic.twitter.com/85smxBXHWq

— 🌸 Athila.R 🌸 (@mykawaiitales) July 31, 2018
There were a ton of great blog and video submissions, as well!  Spokhette at Nerdette at Large published a list of 9 JRPG recommendations, the My Boxed Universe Blog contributed a Phantasy Star III: Generations of Doom review, and Capsulejay from Tales of the Backlog reviewed everyone's favorite Persona 4. Tales from the Backlog also completed Final Fantasy V for JRPGJuly and the Four Job Fiesta!
Griffin from JRPG.moe (props for the amazing URL) published a review of Star Ocean: The Second Story,  Jhipst3r Gamer published a post on Shin Megami Tensei, and the M Disk Gauntlet at M Disk Playlist made its triumphant return with Terranigma. Zack had some very kind words to say about the Community Game-Along events at the end of his playthrough, and I highly recommend taking the time to watch the four part series of this fascinating JRPG!
Better late than never – my contribution to #JRPGJuly 🎮✨ Bravely Second! Ft. the artbook and OST from the Collector's Edition 💙https://t.co/BZlnH4l1jN pic.twitter.com/SE5Wd6TOtG

— Tudz (@fuzzypickles_) July 28, 2018
Other great blog post contributions include Bryan at the Gay Gamer, who wrote about The Alliance Alive, and Cara at Rekifan, who published a lovely post about Rune Factory Frontier that makes me want to boot up a Rune Factory game immediately! Meanwhile, Electrobat of Electrobat Games wrote about her adorable Summoner in Final Fantasy XIV: A Realm Reborn. Yet another game I would love to go back to!
I'd also like to congratulate the following folks on completing their JRPG during the month: @bunnycartoon beat Persona 5, @Tanukitsune finished Ray Gigant, @Captain_N64 completed Valkyria Chronicles Remastered, @abyssviola completed Kingdom Hearts: Dream Drop Distance, @jscarpe beat Zwei: The Arges Adventure, @Ellzababoon beat Kingdom Hearts, and @WinterDisa finished Phantasy Star. Finally, @JRpotential completed Shin Megami Tensei Apocalypse after playing it since release!
Great job to everyone who finished their games this month! I know I've never completed a JRPG in one month before, so that's a massive feat!
I got to the last chapter, but not quite through it for #JRPGJuly. So here's Val Rev accidentally being topical lol pic.twitter.com/TkP7wc2v3G

— Scott Strichart (@TriggerRedd) August 1, 2018
Here's just a sample of some of the other games played throughout the month! @shinhoshi_n played Dragon Quest V, @thegaygamer played Octopath Traveler,  @JRPGJungle played Ys VIII, @driftglass played Ni no Kuni II: Revenant Kingdom, @dudleydoops played Miitopia @pass_the_milk played Xenoblade Chronicles 3D, @husbandohunter played Atelier Lydie and Suelle, @smileyuiop played Persona 4 Golden, @biswasOS played Pokemon Crystal, @Akrophin played Tokyo Mirage Sessions #FE, @winterdisa played Ys, and @ladyriven played Octopath Traveler.
What an amazing selection of games!
Feeling a Gust coming on for #JRPGJuly! 🌬✨ pic.twitter.com/4jdWnAYpM1

— Morgan Sleeper (@zipmon) July 2, 2018
A last minute #JRPGJuly: Atelier Sophie looks really nice in 4k. pic.twitter.com/0nUuze2UJS

— The Old Gay Gristle Fest (@33mhz) July 31, 2018
Thanks so much to everyone who contributed this year! September has just started, and the Community Game-Along theme for the month is stealth games. If you enjoyed JRPGJuly, I hope you'll participate in another Game-Along event, whether it's this one, or one of the other upcoming themes!