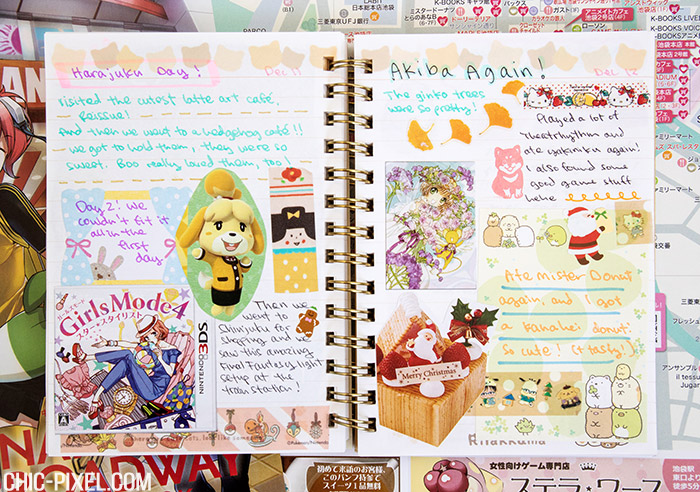 I finally finished my Tokyo travel journal, and while I've had the flip through video up for a little while now, I wanted to share some of my favorite pages here and talk more about the process! If you haven't watched the video yet, you can check it out below:
I filled out the first page before going on my trip in November, and the rest was completed either in my hotel room in Shibuya or back in Brisbane once I got home. I don't really worry about finishing the whole thing while I'm traveling, because the most important thing is to enjoy the trip! I try to take some notes on my phone so I don't forget what I did on any given day, but even when I don't do that it's easy to look back at pictures I took to remember what I got up to.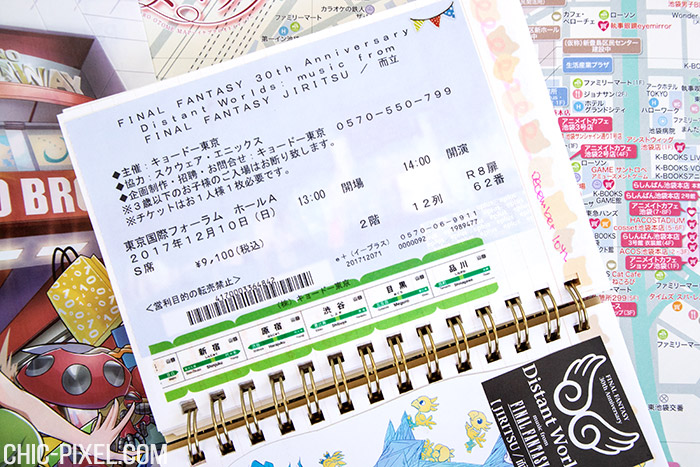 For some pages I like to write little blurbs about what I did, while others I let the items I put in my journal speak for themselves. Like this Final Fantasy Distant Worlds ticket, for example! This was one of the most memorable days of the trip, because I've always wanted to see a Distant Worlds concert. Not only did we get to see the last day of the Jiritsu 30th anniversary concert series, but Nobuo Uematsu and Yosuke Matsuda were also there in person! My husband and I bonded over Final Fantasy when we were first getting to know each other, so it was really special to see it live. Opera "Maria and Draco" was particularly amazing!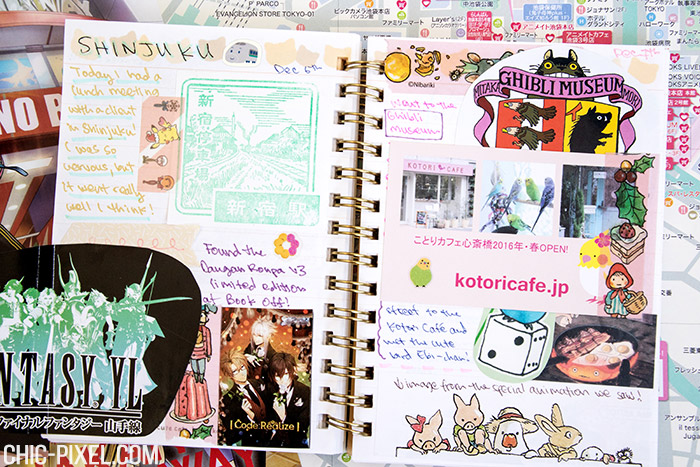 Of course, it wouldn't be a trip to Tokyo without a trip to the Ghibli Museum! I especially wanted to go this time because there was a special exhibit on food in Studio Ghibli films. I wish I could've taken photos inside, but you'll just have to take my word that it was awesome. There were even life-size replicas of some of the kitchens from Studio Ghibli films!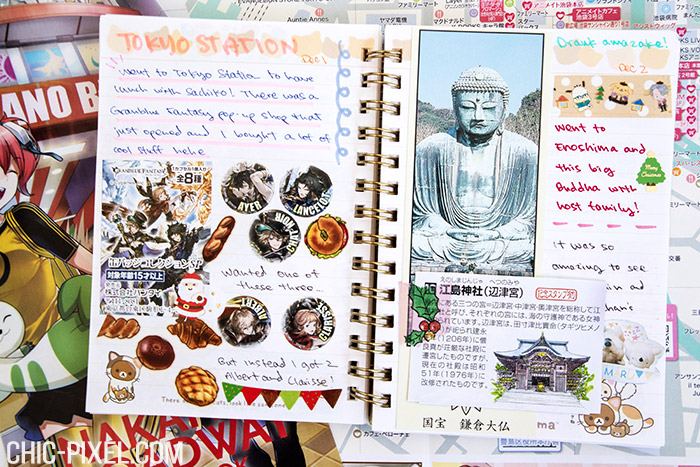 Two and a half weeks may seem like a long time to spend in just one city, but I still had things I didn't get to see during our time in Tokyo! Not having back-to-back plans means time to explore, which I always enjoy when I'm traveling. If we hadn't had time to just wander around, I wouldn't have stumbled into the special Granblue Fantasy pop up store in Tokyo Station that was open when we were there! We also popped down to Yokohama and Enoshima, two areas I hadn't been before this trip. If you ever have the chance to go to Tokyo, I highly recommend spending as much time there as you can, because there are tons of things to see!
Since I'm going to Tokyo again next week to do research for my book,* it's already time to whip out the travel journal again! I'm only there for a week this time, but I really enjoy making travel journals – they're great ways to savour the memories of a fun trip. Have you ever made a travel journal? Let me know in the comments!
Which is a travel guide to Tokyo! You can learn the inside scoop by becoming a member of my Patreon for as low as $1 a month!