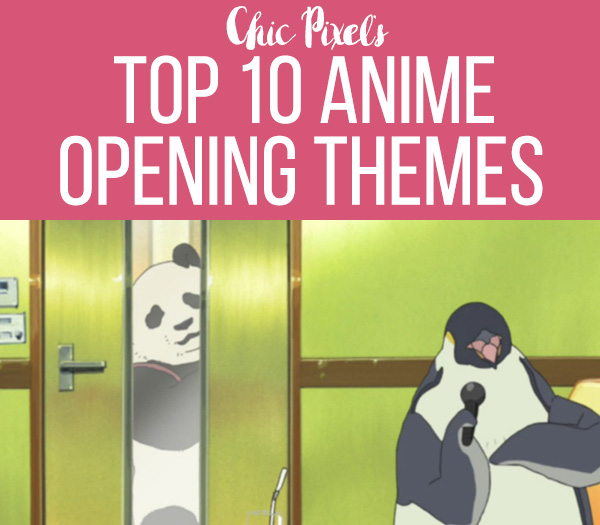 Who doesn't love a good top 10 list? I've been meaning to share a roundup of my favorite anime opening themes for ages! Lately I've been swamped with thesis work, which has resulted in me not having much energy/time for blogging, which subsequently has me thinking about doing lists more than usual. I know some people can take them or leave them, so I hope you don't mind!
Today I'm sharing my favorite anime opening themes of all time, which goes all the way back to some of the first anime series I ever watched. But let me tell you, it was seriously hard to narrow this list down to just 10! Here's what made the cut…
Sailor Moon, "Moonlight Densetsu" – There's no way I could do a list of my top 10 anime opening themes without including this classic. I actually grew up with the surprisingly not so bad English opening, but I love the Japanese opening even more. Sailor Moon was one of my major role models as a kid, to the point that singing the Japanese theme in a karaoke booth in Japan for the first time was a pretty emotional moment for me!
Slayers NEXT, "Give a Reason" – Megumi Hayashibara is a total powerhouse when it comes to voice acting and anime theme songs, but "Give a Reason" is definitely my favorite song of hers. I love a good theme that gets me pumped up and positive!
Gangsta, "Renegade" – This is actually the most recent opening theme on this list! Gangsta aired in 2015, and while the anime unfortunately ended on a cliffhanger that will probably never be resolved since the studio that produced it went bankrupt (RIP Manglobe), the opening theme never fails to get me groovin'. It has a permanent spot on my workout playlist!
Tenkuu no Escaflowne, "Yakusoku wa Iranai" – Aside from just all-around adoring Escaflowne, the opening theme has a very special place in my heart. It's such a sweet tune, and I love how it breaks out into a random bagpipe instrumental in the middle of the full version! This is still one of my favorites to sing at karaoke, too!
Polar Bear Café, "Boku ni Invitation" – Another favorite song from a favorite anime! Isn't it great when they come hand in hand? I can't help but sing along to this whenever I hear it!
Nightwalker, "Gessekai" – While I can saw I enjoy nearly all of the anime on this list in addition to their theme songs, Nightwalker is one that I pretty much only remember because of its theme. This mediocre vampire anime gets to grace this list because it's what introduced to me to Buck-Tick, a band that would later become one of my favorite bands of all time! I've even seen them twice in concert in Japan! "Gessekai" is a great karaoke tune if you're learning Japanese, because it repeats a lot of the same words.
Trigun, "H.T." – As the only instrumental track to make my top 10, Trigun's opening totally wins the badass guitar award! My mom even loves this one, so it gets that "mom that isn't really into anime but will watch it occasionally with her daughter" seal of approval.
Princess Tutu, "Morning Grace" – I'm not usually a huge fan of slow, melodic songs, but Princess Tutu's opening is so beautiful it earned itself a place in my top 10 list. It's just that good!
Neon Genesis Evangelion, "Cruel Angel's Thesis" – This is probably on everyone's favorite anime opening list ever, but I'd say with good reason! It's such a catchy song, and super fun to sing, too. I'll confess I'm not even that big of an Evangelion fan personally, but I'll always jam out when this song comes on! (I've called it by its English name because it seems like that's just as recognizable as its Japanese one!)
Hunter x Hunter (2011), "departure" – If there's one song that's completely embodies the feeling of getting pumped to embark on a big adventure, it's "departure." It's even in the title! Even though the 2011 Hunter x Hunter anime anime is over a hundred episodes long, they kept the same song throughout. When there was a new opening animation, it just started at a different part in the song. I didn't even get tired of it!
There you have it, my top 10 anime opening themes! As I mentioned at the beginning of this post, there are tons of awesome songs I couldn't fit on this list, but it was a fun challenge to narrow it down to just 10. What are some of your favorite anime opening themes? Let me know in the comments!
If you enjoy this and other posts on Chic Pixel, please consider tipping me a coffee to help me get through my thesis! I need that sweet, sweet caffeine to keep me going! Your support is great appreciated.