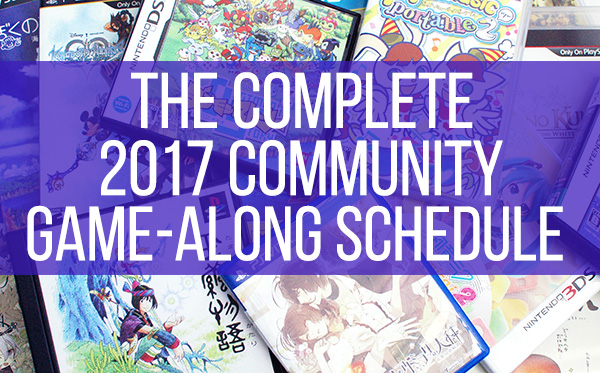 Another year, another 12 themes for the Community Game-Along! This is my forth year hosting this event, which was started to help encourage people to play more varied games (or check something off that backlog!). All you need to do to participate is play a game that fits the theme and share your experiences on your social media, blog, or elsewhere! Each month there will be an announcement post with game suggestions and the official hashtag to use. If you like to plan ahead, here's the full list  and official hashtags for the year!
January – Dating sims #DatingSiMonth
February – Fashion games (suggested by @vanishingage) #FashionGameFeb
March – Monster Hunter-likes #MonMonth
April – Grasshopper Manufacture #GrassManMonth
May – Intelligent Systems #IntelligentSystemsMonth
June – Puzzle games #PuzzleGameMonth
July – JRPGs #JRPGJuly
August – Mech games #MechMonth
September – Strategy games #SRPGSeptember
October – Horror games #HorrorGameOctober
November – Visual novels #VNNovember
December – Michiru Yamane #MichiruYamaneMonth
I hope you see some themes you'd like to participate in this year!