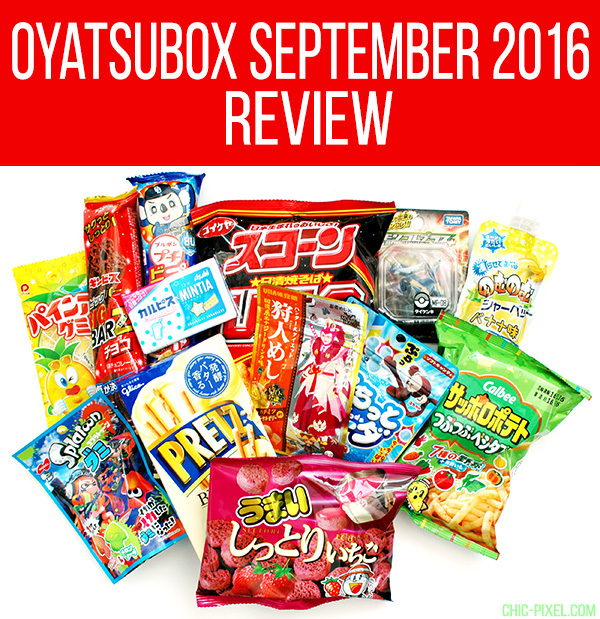 I'm always thrilled to receive a new OyatsuBox Japanese snack subscription box in the mail, and with their new bright red box, there's no way I'll miss it! It may be the end of October, but today I'm going to be covering their September box, which came packed full of great snacks and candy, and one very interesting drink. Check out my unboxing video to see my reactions as I open it up!
As always, I received a standard OyatsuBox, which costs $25 per month including shipping worldwide. The official site advertises it as coming with 10-14 snacks and one gachapon, and September clocked in at 12 snacks (including one drink) and one gachapon. Unlike some of the other subscription boxes that I've tried that come with numerous smaller items (such as individual Kit Kats), OyatsuBox always includes full-sized treats!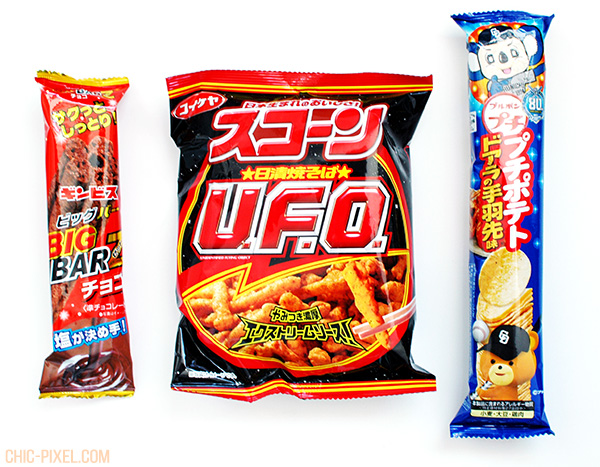 On with the snacks! I've never heard of the UFO chips in the center, but according to the pamphlet included in the September box, they're super popular in Japan right now. I wasn't a big fan of the yakisoba flavor, but I've come to accept that I just might not be all that into yakisoba (eep!).
I am, however, familiar with Big Bar Z, and I must say I'm a huge fan! I just love the super puffy yet crunchy texture… It's almost like a chocolate corn puff, but more substantial. I've also been known to partake in the Puchi chips on the right, which come in a wide variety of flavors. This one is branded with Nagoya's baseball team, the Chunichi Dragons! Is the blue animal mascot on the top… a koala??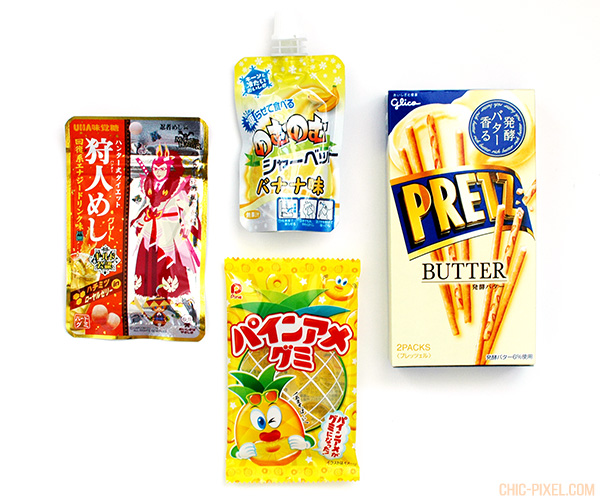 Let me tell you, there's a whole lot of goodness in the above photo! Starting from the left, we have Monster Hunter Meshi, which are honey and royal jelly energy gummies. I just adore the packaging, which features the Mizutsune armor set – one of my favorites from Monster Hunter Generations!
Next (going clockwise) is a banana sherbet-flavored item that I thought was a drink but turns out is more like ice cream in a pouch! How neat is that?! To the right of that are butter-flavored Pretz, which is nothing too innovative, but very tasty. Finally, some pineapple gummies!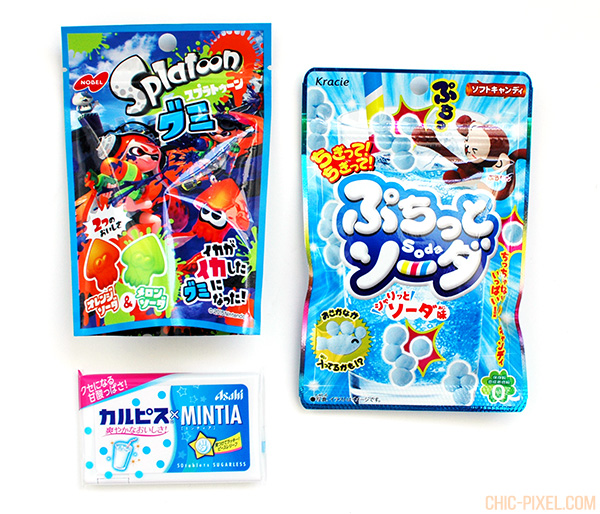 Stop everything and look at those Splatoon gummies! Let me tell you, I was absolutely thrilled to find these in the September OyatsuBox, because I was seriously considering ordering a bag for myself! I just love the packaging and how the gummies themselves are shaped like inklings. And check this out: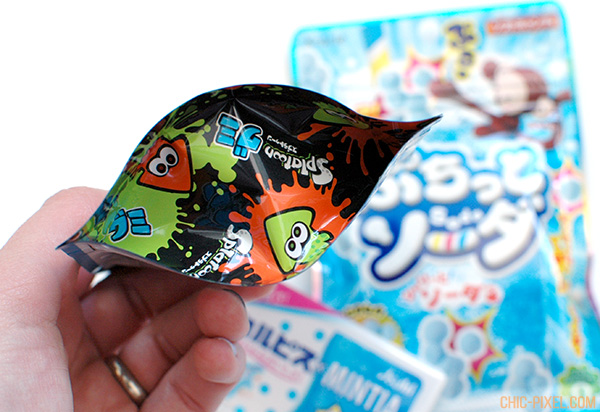 Such attention to detail! The gummies were orange and melon soda-flavored, and neither are among my favorite flavors, but they were still nice! Japan sure knows how to make a good gummy candy.
Nearly every month there's something ramune flavored, and this month OyatsuBox included Puchitto bubble-shaped ramune candies that fizz in your mouth. I've mentioned before that ramune is hit-or-miss for me, but the concept of this candy is really fun! Extra points for the cute monkey mascot.
Calpis-flavored things, on the other hand, are generally more of a "miss," as I don't really like the Calpis sports drink. However, I was really surprised to find that I quite enjoyed the Calpis Mintia included in this box! I was expecting them to have a slight mint flavor, but oddly they didn't. Instead, they just tasted like Calpis candies, which apparently is the way to get me to like Calpis!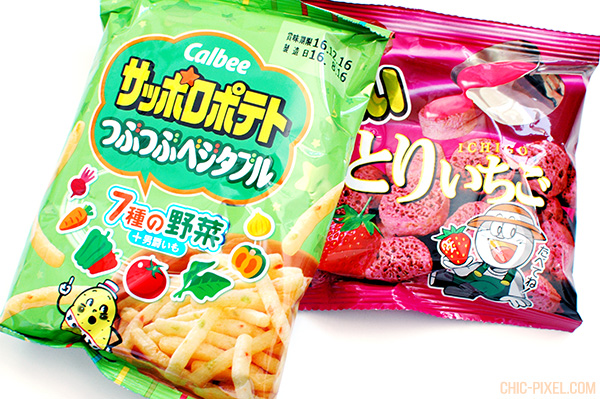 The final two food items in the September OyatsuBox were Sapporo Potato and strawberry Umai. The Sapporo Potato were veggie potato chips made from potatoes from Hokkaido and nine different vegetables! I love the packaging, and how the chips actually had multicolored veggie chunks in them. Cute!
The strawberry Umai is apparently a sweet version of the classic Umaibo balls. Eating these was a bit of weird experience because I'm so used to the texture of an Umaibo puff going with a savory flavor. But these were sweet! I think something about the flavor/texture combination turned me off, but the strawberry flavor itself was very nice.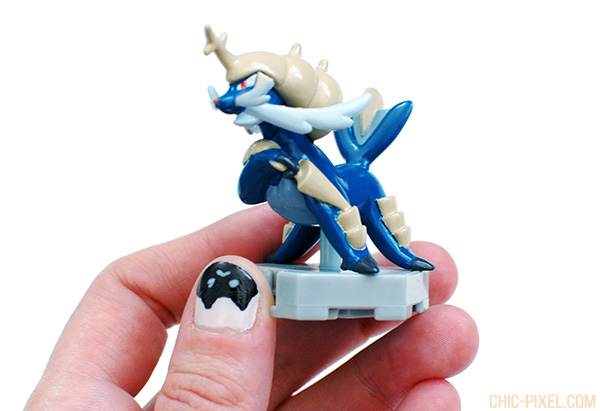 OyatsuBox skipped the usual random gachapon in September for a Pokémon figurine, which was pretty neat! I got Samurott, who I dig because he's a seal thing with a shell sword. I wouldn't complain if we got a Pokémon item each month, just sayin'.
Phew! I'm always so impressed by the variety of item included in each month's OyatsuBox. My favorite this month is probably a tie between the Monster Hunter and Splatoon gummies. How can I choose between two of my favorite game franchises?! I already have the October OyatsuBox here waiting to be opened, so stay tuned for my next review very soon!
Chic Pixel is a monthly OyatsuBox reviewer. While I was provided an OyatsuBox at no charge, this review reflects my authentic opinion of the product.