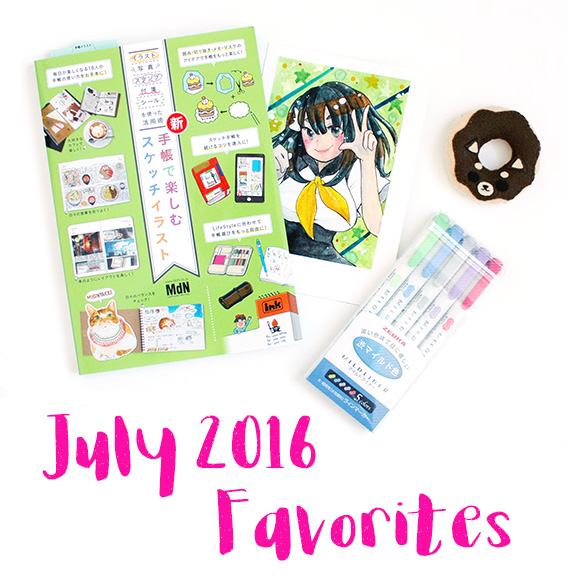 Welcome my newest monthly feature, Chic Pixel Favorites! I've seen a lot of bloggers and video creators do monthly roundup posts/videos of their favorite things, and it's always really appealed to me as a great way to concisely share what's tickling your fancy at any given time. But I've never actually gotten around to trying it myself… Until now!
Since I'm entering the absolute worst crunch time for my thesis (review in October! Ack!), there have been a lot of things lately that I'm enjoying that I just don't have time to devote full posts to that I still would like to share. I like you enjoy it – since this is the start of a brand new series, your feedback would be greatly appreciated! Well, without further ado, here goes my very first Chic Pixel Favorites!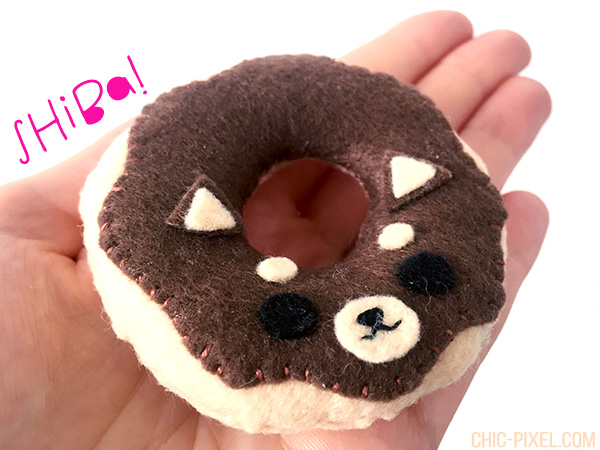 Felt Shiba Inu Donut – It's not something I share often, but I'm a huge fan of crafts, particularly types of crafts involving needles (embroidery, sewing, needle felting, knitting… You name it!). Despite really loving doing things with my hands, I simply don't take the time to do it enough, so when I had the urge to make a felt shiba inu donut plush, I decided to run with it! I based my design off of some similar felt animal donuts by a crafter I follow on Instagram, and an actual shiba inu donut image. I'm pretty happy with how it turned out!
Headspace – Believe it or not, I've been trying out meditation! I've heard great things about the Headspace app and finally decided to give the 10 lesson free trial a go. I'm on day 32 now (I don't yet have the discipline to do it every day, heh), and I've particularly come to love sitting down for my sessions over the past month or so. All you have to do is listen to the recording for 10 minutes a day! While it has taken me a little while to find my groove, I alway come out feeling refreshed, and I really love the feeling of clarity taking some time to let go of everything brings. If you often find yourself stressed or anxious, I would highly recommend trying Headspace out!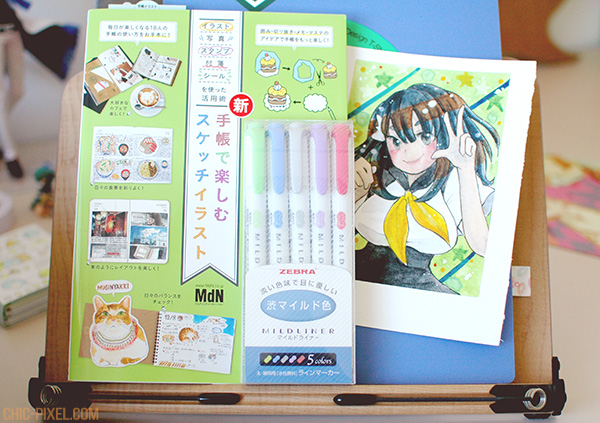 Art Commissions – This month, I commissioned not one, but two pieces of adorable art! First is the Hajime illustration in the above photo, done by the lovely chibimonki. I figured I could use the extra positivity on my desk as I enter the final few months of my thesis!
The other image I commissioned is a decidedly different theme – namely, Junkrat from Overwatch! I originally started looking at Junkrat fanart when my husband decided to play as him and I wanted to illustrate how fans are making sexy fanart of all the characters in the game. Well, I guess the fanart was too sexy, because now I'm a converted Junkrat fan?! It doesn't help that he's often paired with Mei, who is by far my favorite Overwatch character. While I'm at it, I may as well admit that I requested the artist draw him in casual clothes and a "sexy pose." No shame!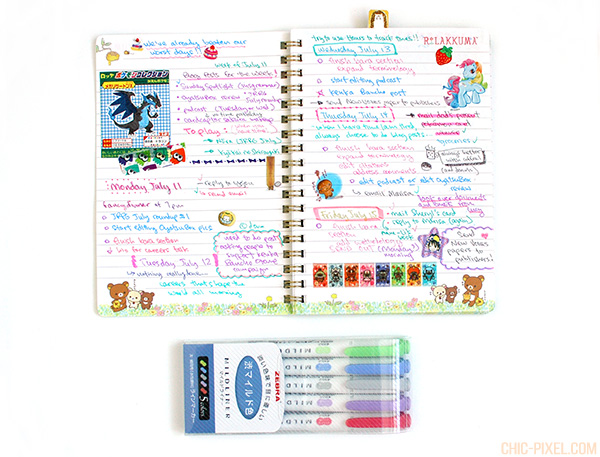 Zebra Midliner pens – If you're at all familiar with the studyblr community (study + Tumblr… the name pretty much speaks for itself), you may have seen these double-sided highlighters amongst photos of immaculately-styled notebooks and cups of coffee. I've always wanted some highlighters that weren't garish neon colors, and I'd heard so many great things about Midliners that I decided to give them a shot. The colors are really nice, and I love the dual tip! They make good general markers, too (note that I didn't actually use the Midliners in the journal sample above, I purchased them after I did those pages).
Journal… Thing – It's not a purchase per say, but the new form of planning/journaling I started to implement last month is also worthy of this favorites list. Partially inspired by bullet journals, I've started using a plain notebook to jot down daily tasks, events, and thoughts – what I especially like about this method is I can easily look back and see what tasks from previous days I still have to do, and it gives me a much better sense of how quickly I finish tasks (since I tend to always have way too much going on, I really need to work on this). Plus, I get to use all my cute stickers and washi tape to really jazz it up! It's very therapeutic to sit down with it for a few minutes at the end of the day to add some new decorations and map out my plan for the next day.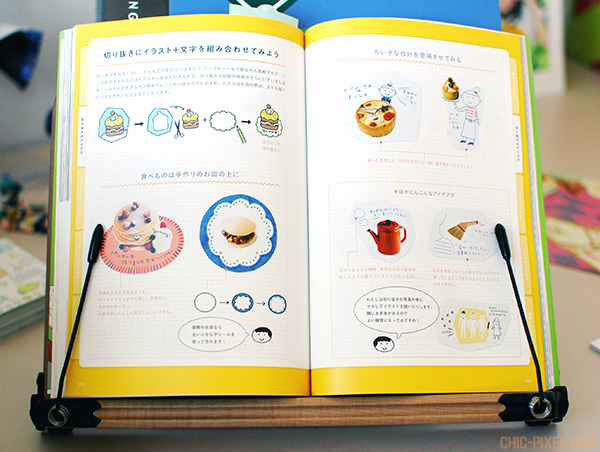 Shin Techō de Tanoshimu Sukettchi Irasuto ("New Enjoy Your Planner with Sketch Illustrations") – Forgive the awkwardly-translated title! This book is the second in a series about planners (can you sense a theme?) where creatives share how they use their planners as well as tips for how to make the most out of your own. I just love geeking out about stationery-type stuff, so I get a lot of joy flipping through this book! It definitely gives me some ideas on how to use my own planner, but I'm pretty resigned to the fact that my planner will never be as cool as the ones in the book… If you're interested in checking it out, you can purchase it from Amazon Japan! The first book is also available for Kindle.
That does it for my July 2016 Favorites! I hope you enjoyed this new column! Instead of keeping me guessing, why not let me know what you think in the comments? I would also love to hear what you enjoyed most during the month! Here's to an easy breezy August!