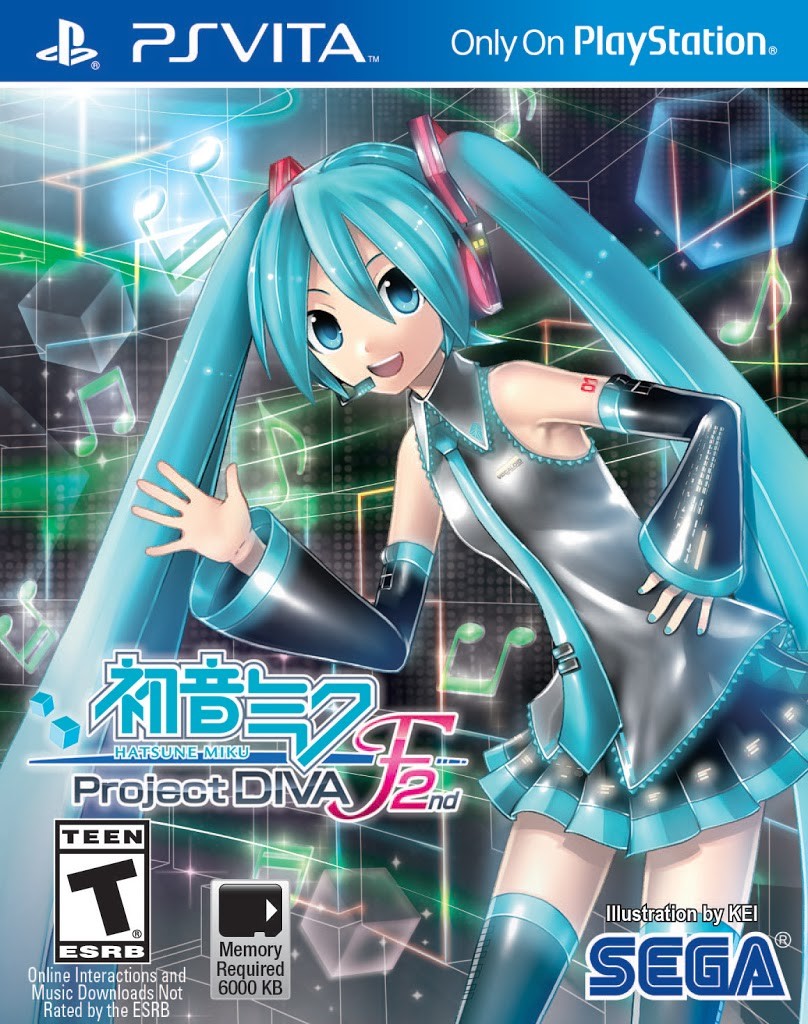 Back when SEGA released Hatsune Miku: Project DIVA F last August, I was amazed to hear that a Vocaloid game would finally be coming out in English. SEGA only brought over the PlayStation 3 version initially, but six months later the PS Vita version followed due to the popularity of the PS3 release. Now, however, the digital idol Hatsune Miku is literally everywhere, from opening for Lady Gaga to performing on Letterman, so it makes much more sense to see Hatsune Miku: Project DIVA F 2nd in English only eight months after the Japanese release. And this time, buyers have the option to choose between the PS3 and PS Vita versions at launch!
Like its predecessor, Project DIVA F 2nd is a rhythm game featuring a wide range of popular Vocaloid songs. For the unfamiliar, Vocaloids are digital voice banks that can be used to add vocals to music, or voices to cute creatures such as the animated series' Bee and Puppycat's Puppycat. While the heavily synthisized Vocaloid sound won't appeal to everyone, it's hard not to enjoy a rhythm game with a catchy beat.
Gameplay is made up of the basic rhythm game formula of pressing buttons in time to symbols appearing on the screen, but Project DIVA is unique in that rather than always appearing in the same place, the symbols will dance around the screen in intricate patterns inspired by the music. This, coupled with flashy music videos playing in the background, means that mastering songs requires an ample amount of concentration. Even music game fans may find the normal difficulty hard (I know I do), but the game does a great job teaching you the ropes in easy mode, so I would suggest starting there if this is your first Project DIVA game. It's definitely not a cakewalk!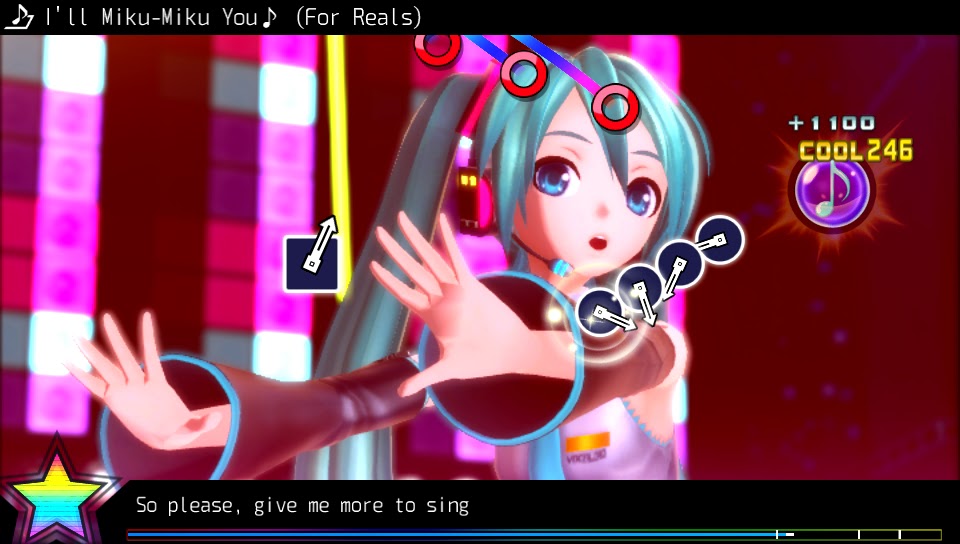 One great addition to the PS Vita version of Project DIVA F 2nd that wasn't in Project DIVA is the ability to assign the star-shaped "scratch" symbols to the analog sticks in the settings menu. Previously, scratch symbols required you to swipe either the front or rear touch screen and are set to the front screen as a default in Project DIVA F 2nd. I found that I was never able to get the hang of doing touch scratch controls in Project DIVA, so it's great to see the option to use the analog sticks in Project Diva F 2nd.
Minor improvements include the game's menus, which much better on the PS Vita now that they're at native resolution, the option to either show romanji subtitles or the English translations of the songs during videos. SEGA has also provided the option to import save data from the Japanese version of the game in case you bought the game before the English version was announced, which is something I don't think I've ever seen in a game before!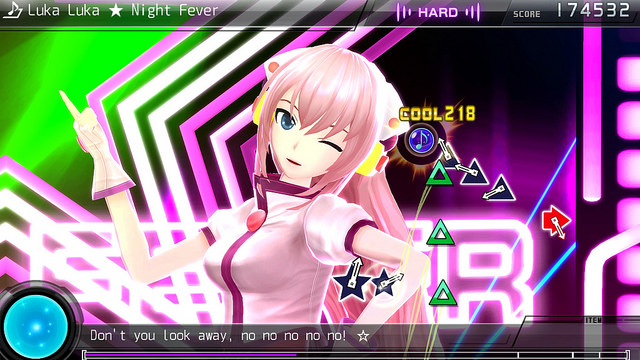 With 40 songs, Diva Rooms where you can interact with the Vocaloids, an Edit Mode, and an AR mode, Project DIVA F 2nd is just as packed with content as its predecessor. It's worth noting, however, that though 20 returning songs from Project DIVA F have been included in addition to the 20 new songs added just for 2nd, not everything made the cut. Some of my personal favorite songs such as "Remote Controller," "Secret Police," and "Ashes to Ashes" remain Project DIVA exclusives, which is a shame considering it shouldn't have been hard to include the full back catalog and add a few new songs to make Project DIVA F 2nd the definitive Project DIVA game. Since unlockables from Project DIVA F can be transferred over to Project DIVA F 2nd, why not have some kind of similar function or unlock for those who already own the previous title in the series?
Outside of the main rhythm game, the Diva Rooms and Edit Mode are two extremely in-depth modes that I honestly haven't spent much time with in Project DIVA F or its sequel. There's a Diva Room for each Vocaloid where you can customize its furnishings by spending in-game currency earned by playing the songs to your heart's content. You can even interact with the Vocaloids in a touching mini game! It may sound inappropriate, but I promise you it isn't.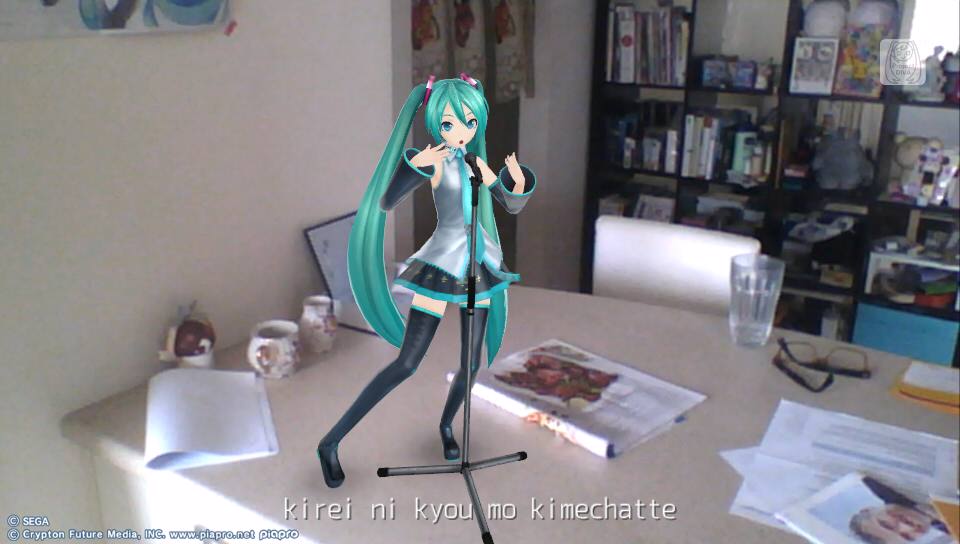 My qualms with the song carryover from Project DIVA F is a minor gripe for a game that is otherwise highly polished and extremely fun. Regardless of whether or not you like Vocaloids, if you're a rhythm game fan, Project DIVA F 2nd is a must-play title for the PS Vita. And, while I personally prefer to play rhythm games on handhelds, based on my experience with Project DIVA F on the PS3, I'm sure the PS3 version of Project DIVA F 2nd is just as fun!
The Edit Mode, on the other hand, is a robust song editor that allows you to completely choreograph your own Vocaloid music videos using in-game or imported music and share them with others. Those with the PS Vita version who want to use this mode will have to download it (for free) off PSN, which struck me as a little odd considering it came packaged in with Project DIVA F. I wish I had the patience to make things in Edit Mode, but luckily for lazy people like me it's possible to download and play other people's creations! If you're a fan of creating your own content, you'll likely sink hours into this mode, let alone the main rhythm game itself.

Note: A code for the PS Vita version of the game was provided by the publisher for the purpose of this review. The PlayStation 3 version was not tested, but the games do feature cross-save functionality.