If you've been following my monthly Community Game-Alongs, you may remember that way back in March we celebrated Monster Hunter's 10th anniversary by playing all kinds of hunting games. There was a ton of multiplayer fun to be had, which was a first for the monthly game-alongs, and we saw lots of fun tweets from people enjoying their games and writeups from both new and old hunters. Though it's long overdue, here's a roundup of some of the contributions from the month!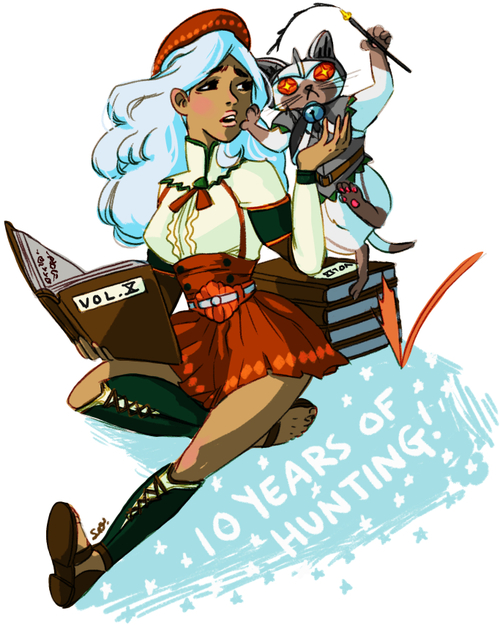 Gorgeous anniversary art by Sarah O'Donnell! (source)
First, of course Japan has to show up the rest of the world with a slew of awesome Monster Hunter-related events and goods throughout the year. I compiled a few of my favorites in a Japan Envy post, but the most envious of them all is the "Monster Hunter the REAL" exhibit at Universal Studios Japan!
I was happy to see Monster Hunter fan and delightfully grouchy game critic Brad Gallaway briefly chat about Monster Hunter Freedom Unite on PSP for #MonMonth in an update over at his blog. He wrote about a phenomenon that goes unnamed, but any hunter knows all too well: the dreaded desire sensor. "Desire sensor" is a term players use to refer to the fact that the game seems to inexplicably know when you're after a specific item and proceed to give you everything but said item. Hope you eventually got those fangs, Brad!
JESUS CHRIST MY SOUL RT @OnTheLam: I'M THE MONSTER. #MonMonth pic.twitter.com/QebpyjlunM
— Ben Bateman (@benspants) March 7, 2014
Over at USGamer, Peter Davison expands on an interview with Monster Hunter creator and producer Ryozo Tsujimoto that is a must-read for fans of the series. While the game has a massive following in Japan, in its 10 year history popularity has eluded it in the west. Definitely read the interview if you'd like to hear how the series came to be and how the creator feels about its reception outside of Japan.
It really does feel weird to "beat" a monster hunter game. #monmonth #mh4 pic.twitter.com/ngkICumqdd
— Hasemo (@Hasemo) March 23, 2014
Of course, there are more hunting games besides the series that started it all. Brian Clark over at One Million Power starts the month off with a great in-depth look at the original Soul Sacrifice, and follows up with a similarly thorough piece on Soul Sacrifice Delta, the not-quite-sequel that is currently only available in Japan. His piece on Soul Sacrifice does a great job at highlighting why the game should not be considered a clone, but rather a unique title that has some similarities to Monster Hunter but sets itself apart in a number of ways. I love that he urges hunting fans to not choose one over the other, but to play and appreciate both series for their different qualities.
It goes without saying that Brian's piece on Soul Sacrifice Delta is a great way for English-speaking fans to gain more information on the currently Japan-only title. While the game is more of an expansion than a full sequel, Brian asserts that it has plenty of new content to make it worth the asking price, or a great entry point for those who never played the original.
My favourite tee. #MonMonth @apricotsushi pic.twitter.com/byit7GV1kx
— Adam Lee (@Shiroth) March 28, 2014
Finally, @Chozobill imported Monster Hunter 4 and wrote up his impressions after playing 11 hours of the game. He discusses the new weapon, the insect glaive, Felyne companions, the farm trader, and a number of other new features. If you can't get enough Monster Hunter 4 info before 4U is released in English early next year, be sure to check out what he thought!
Oh, and a huge thanks to Elliot Gay for making a thread for this game-along over on NeoGAF! We got a ton of participants and there were some great discussions that wouldn't have been able to happen on Twitter. Speaking of which, there's always #MonMonth if you want to read more about what people were up to during the month. It sounds like everyone had fun! I know I did.
If you'd like to participate in this month's Community Game-Along, we're celebrating all things Metroidvania. Head over to the main post for some great game ideas!