For my first ever guest post, I've finagled my highly-qualified Japan correspondent Tim van Ingen to make the arduous journey down to his local Mister Donuts shop to try the new Hello Kitty donuts I blogged about last month! Since I can't go in person, I'll live vicariously through his descriptions and photos like the rest of you. Let's see what he has to say…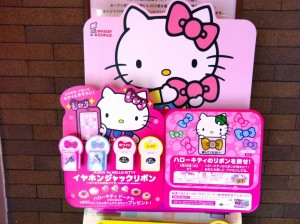 Sign advertising Hello Kitty bow headphone jack accessories at Mister Donuts
Tim: "I just went to the shop, where I spent an inordinate amount of time staring at pink donuts to decide which ones I wanted (it made me feel only slightly uncomfortable!) and then I just went ahead and ordered them. You need to spend 600 yen to get one of the headphone jacks, but you don't actually have to spend it all on the Hello Kitty donuts. Just as long as you spend 600 yen and there's at least 1 Hello Kitty product in there, you get one of the bows. So I just bought 4 donuts and a glass of Oolong tea (gotta stay healthy!), and that was it. I had to ask the girl behind the counter about it, though, because she wasn't showing any signs of giving me one of the bows of her own accord. I HAD TO DRAG IT OUT OF HER."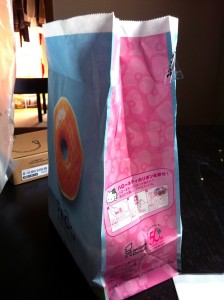 Hello Kitty donut bag!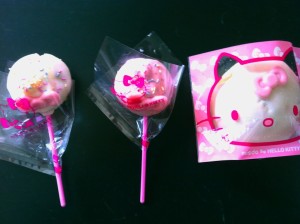 Hello Kitty donuts! Note: Tim bought four donuts, but only three of them were from
the Hello Kitty campaign.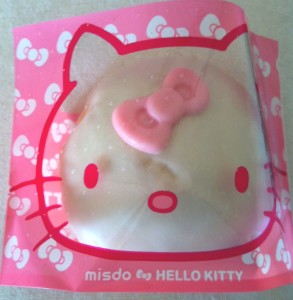 Best. Packaging. Ever!
"I started with the green apple thing [pictured above]… I really liked it. I have no beef with green apple flavored things (unless its beef), and the combination of whipped cream, white chocolate and donut dough worked fine enough in my book. I'd buy it again."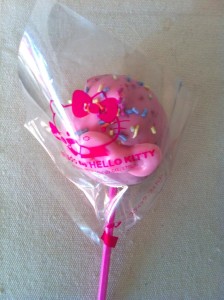 "The cupcakes were pretty nice, too! The thin layer of chocolate on top covered a small amount of whipped cream (flavored orange and strawberry respectively) and the cake parts were decent, too (if a bit dry), so yeah, they were nice enough. Not something I'd buy again, though."
Well, there you have it. I'll admit I didn't think the idea of a green apple cream-filled donut sounded very appealing, but if Tim says it was good, I'll take his word for it! Oh, but there's one more little thing… Guess what he picked up for me?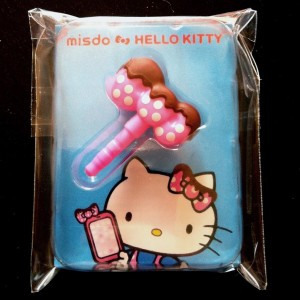 Wahoo! It's a pink Hello Kitty bow headphone jack accessory! I'm lucky Tim didn't want to keep it for himself!
I'd like to give a huge thanks to Tim for taking the time to try the Hello Kitty donuts I've been dying to eat myself and be so kind as to provide photos and a writeup for me to post here! He can be found on Twitter at @Zolbrod, and his wonderful localization work can be seen in the recent eShop release The Denpa Men: They Came By Wave. If you have any comments/questions for him, leave them here and I'll be sure he sees them, or feel free to get in contact with him yourself via Twitter!