Or perhaps I should say "Velcome!" Today marks the start of this month's Manga Movable Feast, and we've got a special Halloween-inspired theme: vampires! I dare say the popularity of vampires in mainstream culture these days does not need much of an introduction, but just because Twilight is the go-to vampire literature for adolescents around the world doesn't mean that vampires in manga are all sparkles and brooding hunks! Though there's plenty of that, too…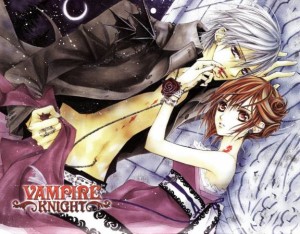 I hope this week's feast will see a wide range of titles covered, since are so many different vampire manga out there! If you have a post you'd like to submit, you can comment here with the link, email me, or tweet to me at @apricotsushi (be sure to include the tag #vampiremmf). Submissions of older posts are always welcome for the archive, so don't be shy! Oh that note, the archive already has a great selection of reviews from Cowa to Vampire Knight, so be sure to check it out for some inspiration. You'll see the archive has a permanent place on the right sidebar under "Vampire MMF Archive" for easy access.
I'll be posting roundups of the day's submissions every evening, along with a couple submissions of my own, so keep checking back! Also, be sure to follow the #vampiremmf tag if you're on Twitter. Please head to my original call for participation post for a list of some vampire manga available in English and more information on submission guidelines.
Last but not least, I hope you have fun, whether you're submitting posts or just reading everyone else's work, and use this as a chance to get in the holiday spirit!