No matter how much I try to deny it, I'm a sucker when it comes to Pokémon. I only play the games so much (I've only ever beaten the Elite Four once!)… It's the cuteness of the Pokémon themselves that gets me every time. Honestly, I'll never pass up a chance to look at Pokémon merchandise.
So when I heard there was a special promotion going on combining the famous Japanese gaming magazine Famitsu and Pokémon, I had to know what it was all about. Well, in celebration of a new series of Pokémon merchandise titled "Game Dot Series" that is launching in December, Famitsu is holding a contest for its readers to determine the sweatshirt design that will be sold at Pokémon Centers across Japan. Cast your vote in, and if yours is deemed the most popular, then you have a chance to win a sweatshirt for yourself!
Lucky for me I have a host family who is extremely, er, tolerant of me, so I voted using their address. I doubt I'll win since there'll only be 10 individuals who score the sweatshirt out of all the entries, but I'd be happy enough to see my pick be the one that gets sold in stores. Unfortunately, as always, the contest is open only to residents of Japan.
Pictured below are the four sweatshirt choices. My favorite has to be #3 for both its color and the fact that there is a giant Pikachu made up of smaller Pikachu sprites on the back. Which would you choose?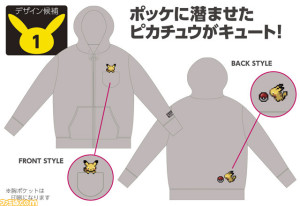 Top right: "Pikachu looks cute hiding in the pocket!"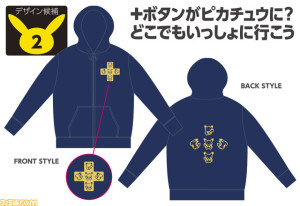 Top right: "The directional button has turned into Pikachu? Go anywhere together"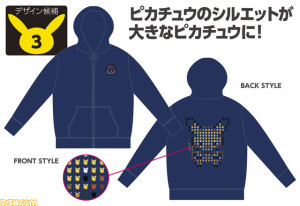 Top right: "Pikachu's silhouette becomes one big Pikachu!"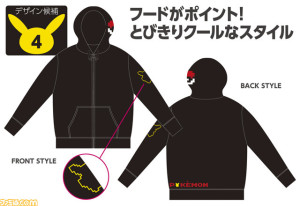 Top right: "The hood takes center stage for an exceedingly cool style"