EDIT: Well, thanks everyone for all the page views! People seem to be taking my offhand Ruby/Sapphire remake comment and running with it. Honestly, I'm just saying that others have been speculating of a remake being in the works due to the new Pokémon time Hoenn series. You can read the post I referenced here at Pokémon Aus. If you're interested in learning more about Pokémon time, please check out this fabulous Pokémon time fansite.
For a little background for those of you too lazy to go digging around over there, Pokémon time is a series of merchandise offered only at Pokémon Centers, and has been around since 2008. It originally started with only the first generation of Pokémon and coincided with Pokémon's 10 year anniversary and has gradually grown to include more Pokémon from generation 1 and 2, so it's very possible that the generation 3 Pokémon making an appearance in the 2011 collection are just part of the series' natural progression and not a sign of a remake. Feel free to speculate as you will! If we were going to get any announcements, they would probably come from the Japanese magazine CoroCoro, where most Pokémon game reveals have been made in the past.
The Pokémon Center. A rare treat for any fan of the internationally adored Pocket Monsters, they are a rarity even in Japan, with only 6 locations in the whole nation. They have proved so popular, in fact, that according to a recent survey they are the 3rd most popular tourist attraction in Japan! Indeed, yours truly has even made her own pilgrimage to the Osaka Pokémon Center: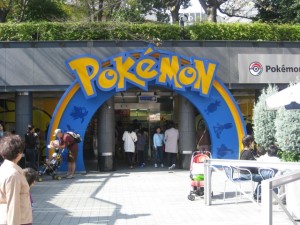 The Pokémon Center in Osaka, Japan
Pokémon Centers are famous for their exclusive merchandise as well as frequent Pokémon downloads, available only at centers for a limited time. It may be a bit early, but the Pokémon Center newsletter has already rolled out its line of holiday goods, which will include some adorable clear file folders and collectable plush toys featuring Pikachu, Oshawott, Audino, and Cubchoo in Santa hats, riding on a Pokémon-themed train.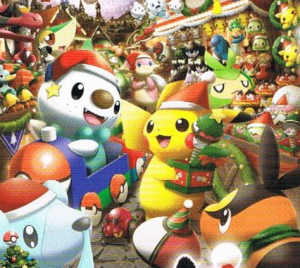 Detail of the illustration to be featured on the exclusive file folders. This Pikachu looks quite like the Pokemon Rumble Blast style Pikachu, if I may say.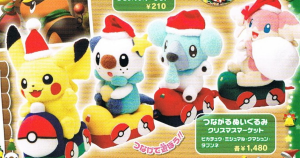 Each plush will be sold separately for approximately $15, but will combine to form a complete train.
And at the bottom of the announcement flyer, there is an interesting little reveal for a series called "Pokémon time." Pokémon time will only contain Pokémon from the Ruby and Sapphire generation of games, but what kind of merchandise will be in the series isn't detailed in the flyer. Of course, this has sparked whole new rumors that Nintendo will be revealing a remake of Ruby and Sapphire for the 3DS on September 13th, which is when when Nintendo will be holding their next press conference.

The Pokémon time series
I actually like these Pokémon Time illustrations quite a bit! I love the pop art style and the color combos. How about that Torchic? (second from the right)
It's really too bad Nintendo doesn't distribute these goods outside of Japan. Those of us who don't have access to a Pokémon Center will have to rely on proxies and eBay for now, unfortunately.