Well, I'm going to bite the bullet and make a post. I promised myself I wouldn't post anything until I finished my book review, but that's taking longer than I want it to and I don't like going so long without posting anything. Since I don't really have anything prepared today, I'm going to show you guys this awesome shirt by a tip-top artist, Kate Beaton (go check out her site if you have a minute, her latest Spiderman comics are too funny).
If you'd like to purchase one of these gems for yourself, head here. I honestly would, but I'm too meek to go around offending everyone that looks at me. This shirt truly speaks to me, though, so it's a darn shame (I'm not a heartless monster, I swear).
I'll also share with you one of my all-time favorite comics by the lovely Ms. Beaton (props if you know what it's referencing!):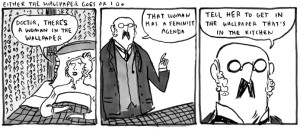 Ahhhh, that puts a smile on my face every time. But that's all for now, sorry! I'm going to get this review done if it kills me. I know you're all probably dying to know what I think about all the latest E3 news, but I think I've tweeted about it enough. Just click the link on the right sidebar to head over to my Twitter account and read all about it.