I don't often do weekend recaps, but this time I think it was sufficiently nerdy enough to merit this post. That, and I wanted to do write-ups on both the Mana Bar StreetPass event I attended as well as the CG animated film Resident Evil: Degeneration, so I figured why not do one big weekend review?
On Saturday, Shaun and I headed into the city for some major window shopping and general bumming around; I, of course, had my 3DS in tow so I could collect some StreetPass hits. For lunch we swung by our favorite Japanese restaurant, Kadoya, where I had their delicious mackerel bento set. We made sure to play a few rounds of Animal Kaiser while we were in the area and had high hopes of scoring a rare card for our efforts, too. Sadly, we did not (and are beginning to think we need to take a break from the whole thing, it's quite the money sink and we haven't gotten any good cards in a while), but Shaun did get a funny picture of me in action: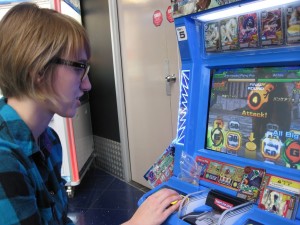 I think I was captured mid-exclamation
We spent Saturday evening at home with a family-sized chicken (2 kilos! What can I say, it was on special) and Resident Evil: Degeneration (2008). Both Shaun and I were pleasantly surprised that the CG movie, which takes place between Resident Evil 4 and 5, was actually quite a bit better than we had anticipated. I'd say that if you're a fan of the video game series, you should definitely check this movie out, if you haven't already! Neither of us are huge RE fans, as we've only actually played Resident Evil 5, but the movie was fun and I think it's at least worth a rental.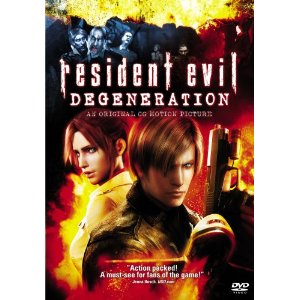 Expect to see the sequel, Resident Evil: Damnation, sometime in 2012!
The graphics didn't strike me as particularly impressive, like they did when I first saw FFVII: Advent Children back in 2005, but a couple times during the movie I did notice some pretty well-done effects, especially in the water. The plot was intriguing and pretty well-paced, though I had a hard time understanding what was going on at a couple of points during the movie (I think that's because I'm slow on the uptake sometimes; Shaun didn't have any problems). It definitely is a good fix for anyone waiting for the next Resident Evil game to come along.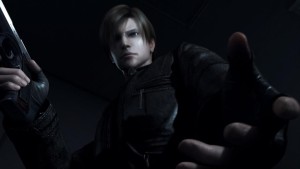 There are plenty of shots of Leon being super-cool
Next, we have the StreetPass event at the Mana Bar, an awesome video game-themed bar located right here in Brisbane! Though the event was planned for the slightly-unfortunate time of Sunday evening, Shaun and I decided it was worth checking out, so we hopped on the train to Fortitude Valley and arrived sometime around 4:30 pm. I thought this would be a nice opportunity to spread the word about StreetPass Brisbane and check out this funky venue!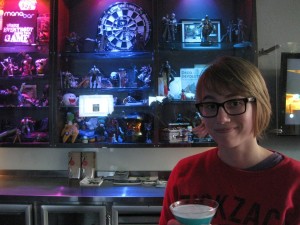 Loved their decor! The Mana Potion was a novel drink, but I'll probably give it a skip next time
Unfortunately, I only got 5 StreetPass hits altogether during the hour and a half we were there, but that may have been due to the fact that we arrived so early. 2 of those were from members of StreetPass Brisbane that attended our event last Saturday, so it was great to see their Mii's level up! Mana Bar also has their own 3DS for StreetPassing, so if you attend the bar regularly, that would be a great way to get a higher level Mii for StreetPass Quest.
The bar itself was smaller than I had expected, but it was pretty cool to see all the TVs with games set up and ready to go (I believe there were 5 in total). Shaun and I played some Mario Kart Wii, watched a bit of Marvel Vs. Capcom 3, and Shaun did a couple of songs on Guitar Hero. Later on we picked up this intriguing XBox 360 game called Raskulls and did a 3 player race with Natasha, who we know from StreetPass Brisbane. That game was fun for multiplayer, and I would definitely check it out again if it's on the next time I'm at the Mana Bar. Little Big Planet was also available to play, but I'm not a huge fan of that so we didn't bother giving it a go.
All in all, it was a great weekend! Albeit a little more eventful than usual, so things might be a little more low-key next weekend to make up for it. Though I'm chafing at the bit to see the new Pirates movie, so hopefully we'll be able to fit that in!
What about you all? Do anything fun over the weekend?