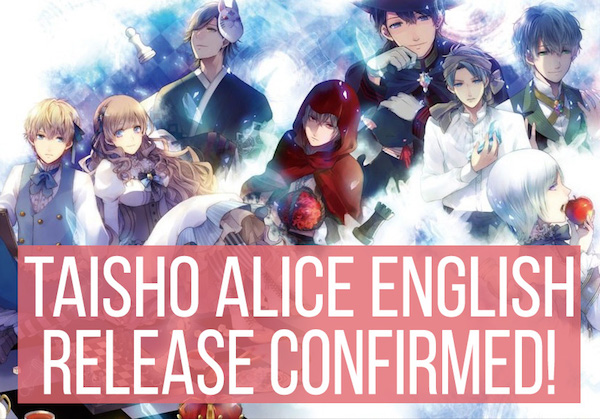 It seems like May is turning out to be an interesting month for surprise game localization announcments! First, we got Kuma Tomo coming out as Teddy Together in Europe, and now we have a very stealth announcement for an upcoming otome game release, Taisho Alice!
The news was unceremoniously unveiled back on May 7th by way of a Facebook post from publisher E2 Gaming, who announced they had secured the rights to a new theme song by Mardelas for the game. The post included an image with a brief description of Taisho Alice, and E2  confirmed in the comments that they were indeed localizing the game. They later elaborated in another Facebook comment that they are currently looking at a PC release, though the game is also slated to release on Vita next month in Japan.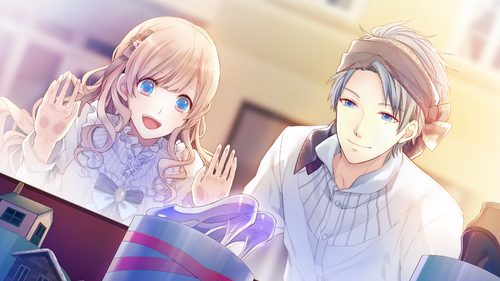 Taisho Alice is relatively unique in that the game is made up of four separate parts, each containing a couple character routes. The Vita version, however, includes all four games. It remains to be seen whether E2 Gaming will be releasing the parts separately as per the Japanese PC release, or if they will combine them into one title for the English version.
As for the game itself, Taisho Alice combines Alice in Wonderland and fairytale characters such as Cinderella and Little Red Riding Hood into a narrative about an amnesiac protagonist who becomes the "heroine" of each fairytale story. I've heard very good things about the game, but of particular interest is the fact that it supposedly gets quite dark toward the end…
I won't lie, though – this whole situation does cause me to raise an eyebrow due to the lack of information on E2 Gaming (it doesn't appear they've actually published anything yet?), along with the rough image used to promote the game on their Facebook page ("heroine" is spelled "heroin"…). It's always exciting to see companies try their hand at localizing otome games, but I will be crossing my fingers that E2 Gaming follows through with a professional product. We can always use more otome games!
UPDATE (05/28/16): In the interest of keeping followers of this localization project informed, I believe it is important to note that the newly added Taisho Alice character profiles on the E2 Gaming website used translations from otome game news site Otome Jikan without credit or permission from the original translators. Since publishing my post, E2 Gaming has also deleted all mention of any other games from their website. They have also posted numerous comments and updates to their Facebook page that have since been edited or deleted. I encourage everyone interested in this release to stay informed as it moves forward, and not to tolerate unprofessional conduct from publishers.
UPDATE 2 (05/29/16): E2 Gaming has issued a statement and apology to Otome Jikan, and confirmed they will be releasing all four PC titles on Steam. Of note is the fact that they mention "we're just 48 hours into this adventure," however the initial announcement regarding the image song rights (which subsequently revealed an English version of Taisho Alice was in the works) was posted on May 7th, over three weeks ago. You can read their full comments below: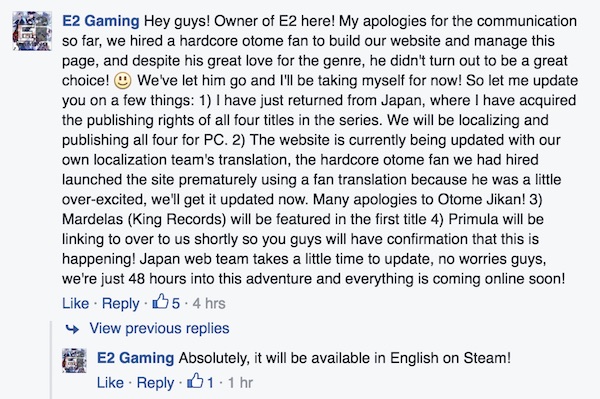 For more information on the situation, check out Elly's post at Figuratively Speaking.