I think it's safe to say that I almost like talking about Japanese pop culture-themed food items as much as I like talking about the media represented in said food items themselves. And when it comes to "otaku food," there's nothing I enjoy more than a good themed café, whether it be a single café dedicated to a certain character, game, or anime series or just a special collaboration that features themed food and drink items for a limited time. So, for this installment of Japan Envy, I'll be focusing on two recent café collaborations that caught my eye.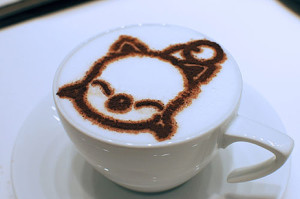 Moogle latte art!
Since I've been on a Final Fantasy kick lately, I'll start with Square Enix's special Final Fantasy XI 11th anniversary café series, which will be running for a month at the official Square Enix café Artnia in Shinjuku, Tokyo starting October 11th. Big thanks to Kimimi for tipping me off to this one!
Folks who order a cold drink will be treated to one of two adorable coaster designs.
Speaking of cold drinks, the café will be celebrating Final Fantasy XI's main villain, the Shadow Lord, with two themed drinks, one alcoholic (left) and one non-alcoholic (right).
But enough about drinks! How about a three-berry pancake stack with Moogle insignia? I think it's safe to say that I'd be ordering this one.
They'll also be offering a "Queen's Crown" fruit parfait. It contains pineapple, apple, orange, banana, and cherry. Yum!
Finally, Artnia will also be selling some good old-fashioned chocolate featuring a number of Final Fantasy XI-inspired designs. I don't know if I could eat them! (I'd probably manage)
Next up is the Creamy Mami collaboration with another café in Tokyo (all the best things in Japan are in Tokyo, it seems) called Patisserie Swallowtail White Rose. This also happens to be an anniversary special, in this case celebrating 30 years of Creamy Mami, a magical girl anime from the early 80s. If you're curious about the show, you can watch it for free, legally, on Anime Sols!
Anyway, pictured above is the first item on the café's limited special menu, two mini tarts (one sweet potato and the other green tea flavored) and a Creamy Mami mug that you can bring home with you.
Apparently sweets with special characters printed on them is a common item at Patisserie Swallowtail, as a cursory look at their website reveals a couple of different collaborations that feature character macaroons and cookies. The purple macaroon is blueberry flavored, the blue one is pistachio, the yellow-green one is lemon, and the pink one is strawberry. Nothing too special, but the designs are cute!
Now, for the real star of the show: the Creamy Mami cake! At only about $6.50, I'd say it's a real steal, though I'd imagine it's probably quite small in person. It contains cheese and raspberry mousse, but honestly, if I could, I would probably buy it regardless of flavor! Too bad the Creamy Mami collaboration is only running for two weeks, meaning even locals would probably have a hard time getting their hands on these limited-run sweets.
Well, this concludes this installment of Japan Envy! Are you hungry yet? I know I am…