The holiday season is nearly upon us, and for many people that means it's time to update and circulate wish lists and ready the wallet for impending gift purchases. Whether you're looking for gift suggestions to give to other people or things to buy that special nerd in your life, Chic Pixel is here to give you a few ideas to get you started!
Nerdy Nendoroids (Jlist, Play Asia, CDJapan, Amazon; prices vary) – If you follow Chic Pixel, you'll know that over the past year or so, I've completely fallen head over heels for little Japanese posable figures called Nendoroids. These cute manifestations of your favorite characters may not be something you'd normally buy for yourself, but they make great presents! For the Nintendo fan, there's the newly-released Toon Link (pictured above), Luigi (Jlist, Amazon, Play Asia), and even two versions of Isabelle from Animal Crossing.
There are tons of non-Nintendo Nendoroids as well, including a very awesome Monster Hunter Nendoroid line and some harder to find Danganronpa Nendoroids. On the anime front, there are Nendoroid versions of characters from a whole slew of series – the easiest way to find if there's one of your giftee's favorite character is by searching for the character's name plus "Nendoroid" on Google. Jlist and Play Asia both stock official Nendoroids, but be careful if you shop at Amazon, as some resellers try to pawn off bootleg versions as the real thing.
If you prefer to get something a little more "realistically"-proportioned, there's also figmas or the S.H Figuarts line. While I don't personally own any figmas, I love my S.H Figuarts Sailor Moon. She's a ton of fun to pose!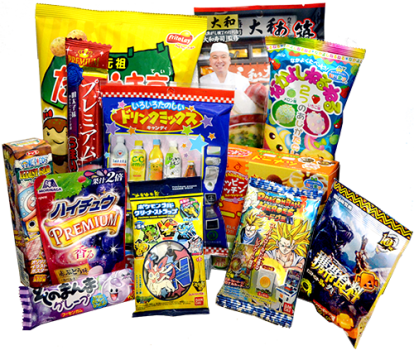 OyatsuBox sample box
Japanese snack subscription (Jlist, from $25.45/month; OyatsuBox, $7.99 or $25/month) – Japanese snack subscription services have really come into their stride over the past year, with a variety of options enabling the discerning snack fan to select the perfect box to fit their taste and budget. Both JList and OyatsuBox allow you to cancel your subscription at any time, making it easy to subscribe for just one or two months, get a boatload of exciting candy to try, and resubscribe when your wallet/stomach allows. OyatsuBox's new $7.99/month option would make the perfect stocking stuffer – just keep in mind that you'll need to sign up by the end of November in order to get a box in time for Christmas.
PS Vita Slim (Play Asia, $206.99; Amazon, $199.99, includes Borderlands 2) – For someone who has nearly everything, the PS Vita is a great system that has generally been overlooked in favor of home consoles or the 3DS. For the importing game fan, however, the PS Vita has the 3DS beat in the handheld department due to being region-free, and its sleek screen is really impressive. It's worth noting that if you want the cool colors (read: pink/white, blue/white, or basically anything that isn't solid white or black), you'll need to import a Japanese system. Luckily they won't break the bank when compared to local prices, and you can totally sign into any region PSN account and play non-Japanese games on them!
For those looking for some games to go long with a PS Vita system, I highly recommend Danganronpa: Trigger Happy Havoc (Play Asia, Amazon) or Project Diva F 2nd (Amazon). For the Japanese romance visual novel fan, DRAMAtical Murder re:code (CDJapan, Play Asia), Binary Star (CDJapan, Play Asia) and Hanasaku manimani (Play Asia) are all great options, though I can give many more suggestions if you'd like to ask in the comments!
If the $200 price tag of the PS Vita is out of your price range, there's always the PlayStation TV (Play Asia $69.99; Amazon $79.99). Not only is it compatible with nearly all PS Vita game cartridges, but it will play both digital PSone and PSP games via your PSN account on your TV. For those with a PS4, it can also be used to stream to another TV in your house, making it a very convenient little device.
Fujoshi's Guide to Japanese (Otome's Way, $29) – Presents don't have to be just fun and games; they can be educational, too! If you've always been telling yourself you'll learn Japanese to play those cool imports or read the manga that never gets translated, now's as good a time as any to start. Fujoshi's Guide to Japanese is a cute, fun way to learn the language and is available in two full color volumes that come with extensive audio content from native Japanese voice actors. If you want to learn more about what to expect from these digital texbooks, check out my review of the second volume.
Anime/Game Calendars (Jlist, CDJapan; prices average $10-$30) – Calendars are often seen as a cop-out gift, but that's because people don't know where to find really good calendars. Luckily, sites like Jlist and CDJapan offer a wide variety of Japanese calendars featuring everything from anime and games to Japanese pop stars and cute cats. Generally larger in size than western calendars, Japanese calendars usually feature two months on a single sheet (pictured above), meaning they contain 6 different images. I love cutting off the month part at the bottom and reusing mine as posters!
I really can't begin to suggest the perfect calendar for you or your giftee, but here are a few that caught my eye: Pokémon (CDJapan, Jlist), Card Captor Sakura (CDJapan, Jlist), Hatsune Miku (CDJapan, Jlist), Free! (CDJapan, Jlist), and Gekkan Shojo Nozaki-kun (CDJapan, Jlist).
Nintendo FAMICOM MUSIC (CDJapan $19.61; Play Asia, $18.99) – This CD recommendation may seem oddly specific, but that's because I think it would be perfect for a retro game lover in your life! The 2 CD set contains 26 remastered tracks to celebrate the Famicom's 30th anniversary last year, and contains classic themes from the likes of Super Mario Bros., Ballon Fight, Kid Icarus, and more. On top of that, the CD comes with some stellar Famicom art on the cover and discs.
Of course, there are countless CDs one could recommend to those who are more musically inclined, but the other I'd like to mention today is Monster Hunter Swing Big Band Jazz Arrange. If there's anything I like more than my favorite game tunes, it's re-imagined versions of my favorite game tunes! And Monster Hunter plus swing band jazz? What's more to love? Or perhaps BlackLute – Monster Hunter Guitar Arrange – is more your style…
I could go on forever, but it's high time for me to get started on my own shopping! What would you most like to receive as a present this holiday? My Jlist and Amazon wishlists are available for perusal if you're interested in knowing what I'd like to get this year…
Note: Links in this post are to Chic Pixel affiliate sites. All proceeds earned through affiliate links go towards hosting costs and enable me to purchase items to cover on the site, so please consider doing your shopping using my affiliate links this holiday season. As long as you click a link, any purchases will count towards my affiliate credit. Thank you!