Way back in August of last year, I wrote about an anime short called Little Witch Academia and how it brought back memories of some of my favorite magical girl series from my youth. With its gorgeous animation, great cast of female characters, and charming story, I immediately knew it was something I wanted to see more of. I highly suggest reading the above article for more of my impressions of the episode, as today I'm not going to focus on the merits of Little Witch Academia itself (suffice it to say, I think it's wonderful!), but rather the lovely Blu-ray release now available from Studio Trigger's online store.
When my copy of the Blu-ray arrived courtesy of acttil, I was immediately impressed by the quality of the packaging. Not only does it come with the main event, the 26 minute episode of Little Witch Academia itself, but it also includes a documentary, soundtrack CD, and a separate book full of illustrations, storyboards, interviews, and more!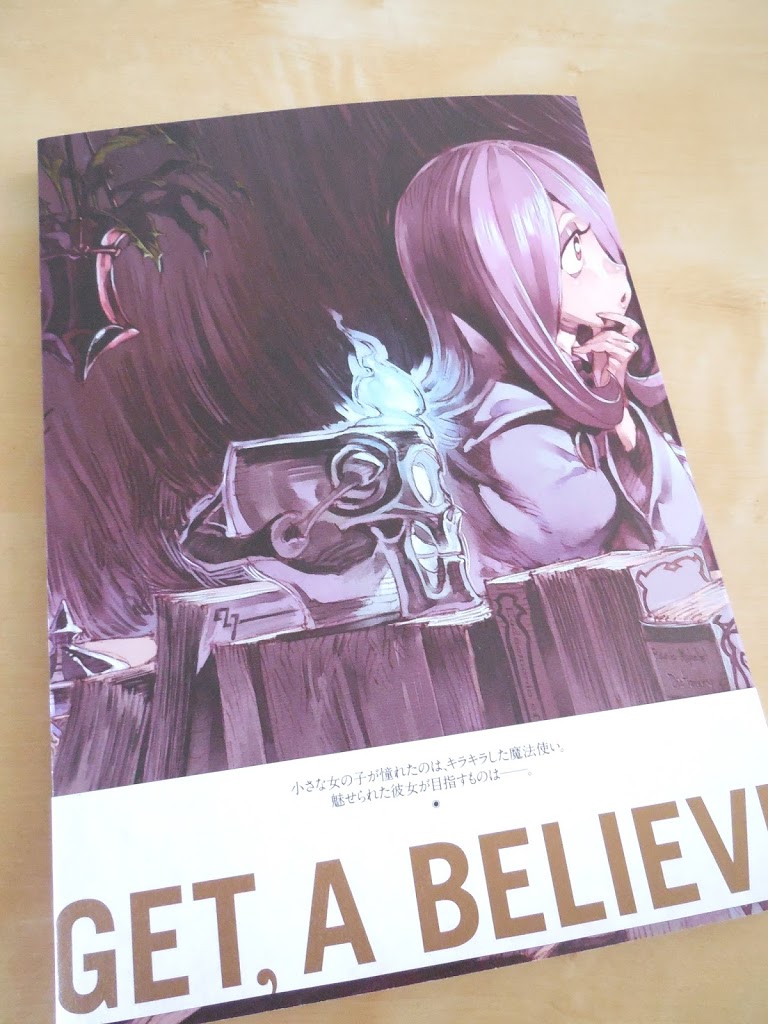 Back cover of the book
The official booklet's cover has the title embossed in gold text, which is a lovely touch. Though it's a paperback, the detail put into the cover on its own reveals that it is by no means a cheap extra. In fact, the book itself is 112 pages long! Let's take a look inside: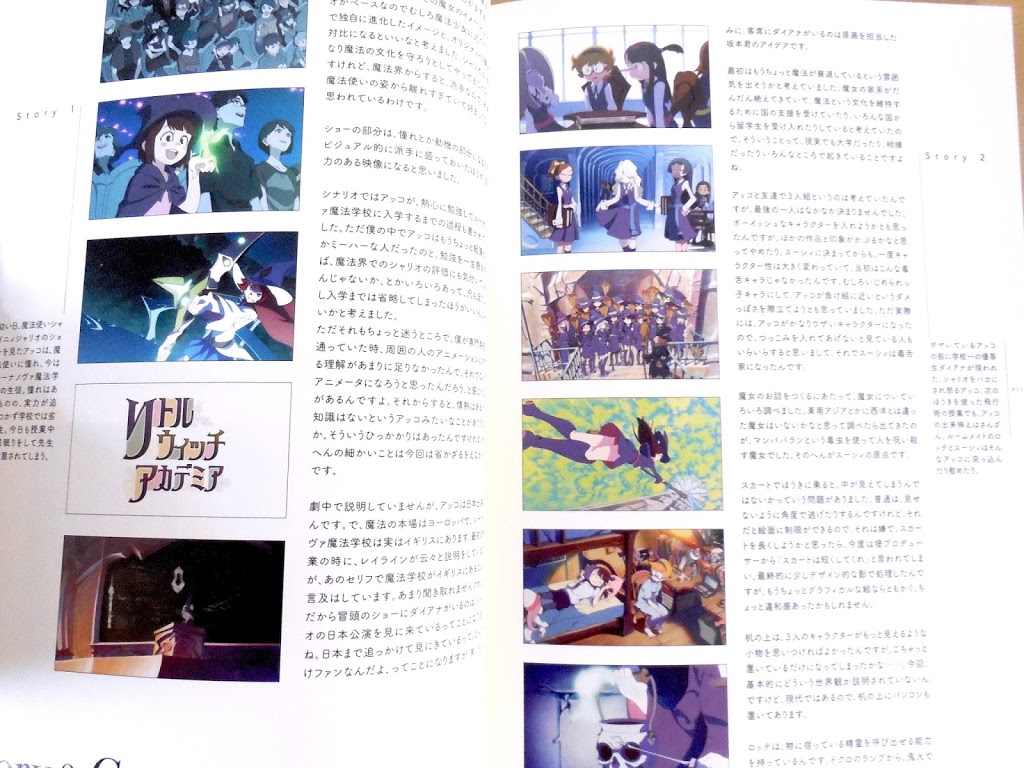 Two pages from the "story & commentary" section
Approximately one third of the book is in full color, which includes the gorgeous two-page spread shown above, illustrations of the main characters, an "image board" that consists of some backgrounds and environmental items, an overview of the story with commentary, and a color storyboard. The full color pages look great, but I wish there were a few more of them. Luckily, the rest of the book is still chock-full of amazing sketches and information.
There are a number of color glossy pages dedicated to specific animators, but since the images are all sketches, it seems like a waste to put them on the "nicer" paper at the beginning when there are full color stills that do not get the benefit of similar nice paper later on in the book (see images below). This is a very nitpicky critique, though, as the animator-specific sections and associated interviews provide a lot of interesting insight and it's nice that Studio Trigger decided to highlight them by putting them towards the front of the book.
The rest of the book is printed on slightly lower quality paper using a limited color palette (lots of purple, pink, and blue). It's difficult to think of a western equivalent, but it reminds me a lot of the monthly manga "phone books," except on slightly thicker paper. The character sheets and background sections are definitely my favorite, as they get much deeper into all of the designs used in the episode than the color section does at the beginning. The full script is also included, along with samples from the storyboard, and there are more interviews to close out the book. As I mentioned earlier, the interviews in this section include images that have been reduced to a limited color palette, which is an interesting design choice but a bit of a shame for those who might prefer the original, full color versions.
Next up is the "book" that houses the Blu-ray and soundtrack CD. I am honestly really impressed by the packaging on both this and the booklet! The Blu-ray case has a hard cover, but unlike normal Blu-ray cases it's a heavy cardboard-like material, so be careful not to spill water on it! When you open it up, there's a rather shocking color choice:
It's so pink! I love how psychedelic it is. The Blu-ray itself is self-explanatory, but the bonus production documentary "How the Magic was Created" is definitely worth mentioning. It includes English subtitles and clocks in at a whopping 66 minutes, and is an eye-opening glimpse at what work in a Japanese animation studio is like.
The soundtrack CD consists of 13 songs, making it 18 minutes of full orchestral music. It's not often that I even notice the music in an anime, so the fact that I listen to this soundtrack when I'm not watching Little Witch Academia is pretty high praise. One of my favorite tracks is Shiny Chariot's Theme – it has a great sense of grandeur and wonder that I feel encompasses my feelings for the show as a whole.
Honestly, I can't believe this Little Witch Academia Blu-ray set is only ¥6,171 (approx. $60)! It's an amazing package and it really does the episode justice. While the Kickstarter for Little Witch Academia episode two has already been funded, I'd definitely recommend supporting the series by purchasing the episode one Blu-ray. You won't regret it!