If there was ever a Kickstarter with my name on it, it would be Hana Doki Kira, an original art anthology featuring 107 illustrations and comics all inspired by my very favorite type of comics: shōjo manga!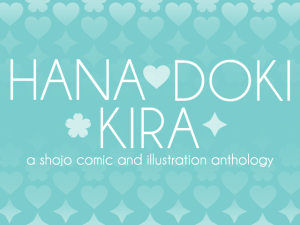 From the book's title, which takes three essential themes of shōjo, flowers, or hana, the pounding of a beating heart, or doki, and sparkling beauty, or kira, to the "about" section, where the creators refer to themselves as the Year 85 Group (hearkening back to the Year 24 Group, an influential group of female artists all born in the same year who helped make shōjo manga what it is today), it's clear that the folks behind this project know and love shōjo manga.
Of course, it also helps that one of my favorite artists, Sarah O'Donnell (fun fact: she designed the new Chic Pixel and Chic Pixel Plus logos!) has contributed a short comic, along with 25 other talented artists! Check out this teaser of her submission:
One thing I didn't realize until I had read the Kickstarter description carefully is the fact that the entire book will be printed in a black, white, and seafoam green color palette! That gets major bonus points from me, as I've been completely obsessed with seafoam green/pale mint recently, and I love how the different artists showcased so far have employed the limited palette. The Kickstarter teases future volumes focused around different colors if this one is successful, which I think is a brilliant idea! Imagine having a row of gorgeous color-coded art anthologies celebrating shōjo manga on your shelf!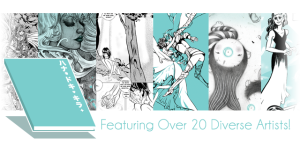 Even if you don't have a lot of spare cash on hand with the holiday season coming up, or a lack of shelf space has you weary of adding another big book to your collection, the Kickstarter has a very reasonable $5 reward tier that nets you a PDF copy of the book. So, if you're a shōjo fan at heart, what are you waiting for? I know the only reason I haven't donated yet is I can't decide what reward I want! While shōjo manga has certainly risen in popularity internationally in the last 10 or so years, there are very few projects that celebrate international shōjo art, so even if you don't want to donate, please do these amazing artists a favor and spread the word!