Nearly two weeks ago I posted a
piece
covering the PlayStation side of my game haul from my recent trip to Japan. Now, it's time for the (siginificantly smaller) Nintendo edition! Interestingly, all of the games I bought for Nintendo consoles were for handhelds: specifically, the DS and GBA. That's probably not all that suprising considering they're my favorite Nintendo consoles!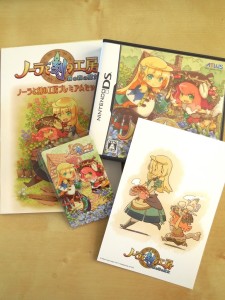 First up is
Noora and the Time Studio: The Witch of the Misty Forest
, a game that has been on my "must buy" list ever since it was released in Japan in July 2011. I was lucky enough to score a used copy of the collector's edition for under $30, which came with an artbook, soundtrack CD of "orgal" (a kind of music box-like style) versions of some of the game's songs, art postcard, and even a telephone card! The telephone card in particular was a great find, as usually only certain stores offer telephone cards as a preorder bonus. I'm really happy to have this game in my collection, since it never came out in English and looks very similiar to the
Atelier
series in that it focuses on alchemy just as much (if not moreso) than combat. Expect a closer look at the collector's edition goodies and perhaps some first impressions of the game in the near future!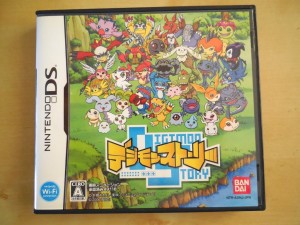 Now this was a game that I had absolutely no intention of buying until I happened to run into it in a store. How could I pass up that awesome cover?! Though it's called Digimon Story in Japan, it did have a North American release under the title Digimon World DS. Funnily enough, despite being a massive Digimon fan, this is the first Digimon game I've added to my collection. I can't wait to give it a go, though!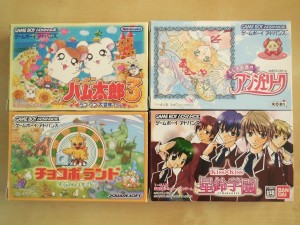 I mentioned in my last Japanese Game Haul post that I was rather disappointed by teh GBA game selection in Osaka, and for the most part, that wasn't an understatement. The truth ofthe matter is, I've found a seller on eBay with an extremely good selection of titles and very competitive prices – so much so that I often found myself looking at a title on a shelf thinking "I could find that cheaper on eBay!" That was rather disheartening, but I found that I just needed to dig a little deeper to find the really good deals. As such, all of the titles pictured above were actually purchased in the last couple days of my trip!
Yes, the game pictured at the upper left is a Hamtaro game. I couldn't pass up such an adorable GBA box in good condition going for a cheap price! The game pictured was actually released under the title Hamtaro: Ham-Ham Heartbreak in English and was the second Hamtaro game to come out in English, even though it's the third game in the series.
To the right of Hamtaro is Fushigi no Kuni no Angelique, or "Angelique in Wonderland." After playing trough the original Angelique, I couldn't pass this one up. It certainly helped that it was only about $3! While it passes up the usual dating sim formula for a board game-like permise, apparently there still are dating sim elements including character-specific endings. And if the game has an Alice in Wonderland theme, all the better!
The title at the bottom left is none other than Chocobo Land: A Game of Dice. This was a bit of a splurge, not because it cost much (I don't remember the exact price but it was under $10), but because I already own the version of it that came in Chocobo Collection for the PSone. Still, I couldn't resist the game's box art and the possiblity of playing it on the go!
Finally, there's Kiss x Kiss: Seirei Gakuen, which I know absolutely nothing about aside from the fact that it's a dating sim and it only cost me $2. Honestly, that's good enough for me!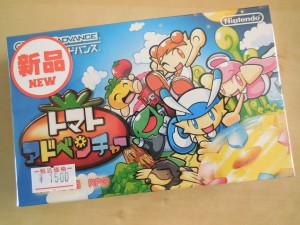 Now this is probably the real gem of my Nintendo game haul – a brand new copy of
Tomato Adventure
for only $15! If that isn't a steal, I don't know what is. I was especially happy to spot this on my final trip to Den Den Town since it was one of the games Bryan of
The Gay Gamer
suggested I pick up! Interesting trivia: Both this and
Hamtaro: Ham-Ham Heartbreak
were developed by AlphaDream, the folks behind the
Mario & Luigi
games! Not bad pedigree, I'd say!
Well, this about concludes my Japanese Game Haul series! Of course, that doesn't include the more in-depth posts I plan to do on certain games in the upcoming weeks. If there's a particular title you'd like to see more pictures of, please do let me know!