I know the whole point of these "Japan Envy" pieces is for me to share things from Japan that aren't readily available to the rest of us, but I'd like today to highlight a wonderful US-based retailer that specializes in cute Japanese goods.
The one time I visited Pittsburgh, PA (to look at colleges, actually), my mom and I stumbled upon a store called Kawaii Gifts. In their relatively small space they managed to stock all manner of cute Japanese stationary, plush, accessories, and homewares, most of which I had never seen before, even online. Though I spent a reasonable amount when I was in their physical location, over the years I've become a dedicated patron of their extensive online store Shop Kawaii.
Not only do they carry all manner of character goods from brands such as San-X, Sanrio, Kamio, and more, but they are also priced extremely reasonably for an import store. With every order I've placed, I've always received a freebie of some sort, such as a pencil, sticker sheet, or a pin made by the store themselves out of old, unused stationary. There's nothing like free things to make me a happy patron!
Here are a few items I'm drooling over right now:
I absolutely love Kamio's Fairy Tale World series! This notebook's pages have various designs, too!
The only thing I love more than Kamio's general Fairy Tale series is their Alice in Wonderland series! This bag is perfect, and I just so happen to be in the market for a bag with a zipper closure.
I'm not too sure how I feel about San-X's newest character, Iiwaken. His name is a play on the Japanese phrase "ii wa" meaning "that's good" and "shiba-ken," which refers to the type of dog, Shiba (or Shiba Inu). He's a good dog, get it? Aha… Ok, that's your Japanese lesson for today!
Anyway, as I was saying, I'm not sure how I feel about him, but there's something oddly appealing about
that notepad
and the dogs' little white butts.
No post detailing my love for cute Japanese things would be complete without mention of San-X's Rilakkuma, a bear who loves relaxing above all else. I absolutely love this guy, but I'm not sure I need these in my life: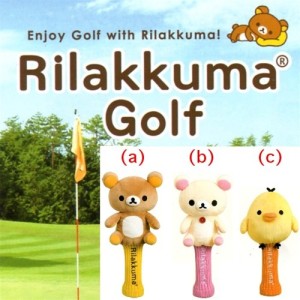 I suppose if I played golf, Rilakkuma golf toppers would be high on my list of things to buy, but as it stands, I'm not a golfer, so the novelty of these is lost on me. If you're wondering, I'd probably choose the pink and white one, even though the dark brown Rilakkuma is generally my favorite of the three characters.
With that said, I seriously suggest checking out Shop Kawaii if you're at all interested in these type of products. They're a great store with an awesome selection and even more amazing customer service. I'm sure I'll be using them as my source for cute Japanese goods for many years to come.