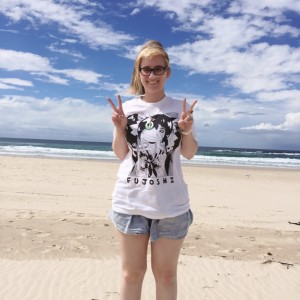 Hello! Since you've made your way over to this page, I suppose you'd like to learn a little more about the gal behind Chic Pixel. I started this blog as a way to share my love for nerdy Japanese things, but it has expanded to include a podcast on anime and games as well as a YouTube channel where I try Japanese snacks and show off my latest merchandise hauls.
I currently live in Brisbane, Australia, but I was born and raised in the United States and have lived in Japan a number of times, including a one year exchange during my undergraduate studies. I'm always looking forward to my next trip back!
Research
Chic Pixel is one way for me to write about the things I love, but I'm also currently a PhD student at the University of Queensland writing a thesis on gender, sexuality, and humor in manga. To get a little into the nuts and bolts of my thesis, I'm looking at how parody is used in manga aimed at a female audience, specifically stories that prominently feature male-male homosexual relationships known as boy's love. You can read a paper I published on centaurs in boy's love manga for free here! Pretty cool, huh?!
Translation
Aside from writing and research, I'm also very interested in Japanese to English translation, and have done freelance translation work of various media such as manga, smartphone games, and business documents. I have 12 years of Japanese language study under my belt and 5 years freelance translation experience. I'm periodically open for freelance translation commissions, so feel free to contact me if you're looking for someone to translate your Japanese product into English!
Contact
If you'd like to get in touch with me, that's great! I'm always up for a chat. Twitter is probably the quickest way to get my attention. If your inquiry will take more than 140 characters, feel free to shoot me an email. I look forward to hearing from you!
Finally, if you've enjoyed your time at Chic Pixel and would like to know how you can help the site, please check out the support page! Please note that some posts on Chic Pixel will contain affiliate links. When you purchase an item using one of my links, I earn a small commission. It's a great way to do your shopping and help support the site at the same time!