This week on Chic Pixel Plus, Elliot Gay (@ryougasaotome) makes his triumphant return after 10 long episodes to celebrate the preteen years of the podcast!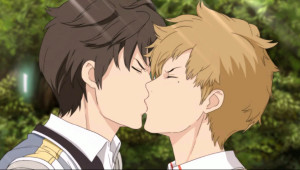 … Rather, we mostly talk about how he likes to inflict pain upon himself in the form of bad media for the entertainment of others.
In this jam-packed 2 hour+ episode, we discuss miserable 14 hour plane rides, moms, the kissing RPG Exstetra, the third Madoka Magica movie, Senran Kagura "boob ninja" Burst, the baby-making RPG Conception, (Xbox)Ones and (PS)Fours, anime we're watching, a couple important Nintendo releases… and a hell of a lot more! Stick around for our first ever Q&A session at the end!
Opening ♫ – Baccano! – Nagai Nagai Yume no Naka no Utage
Closing ♫ – Bravely Default: Flying Fairy – Prelude: Moving Toward Hope