Hello all and sorry for my absence over the past week. I had a couple of posts in the works, but Blogger was down on Friday, so I'll try to make up for it in the next few days. In the meantime, I thought I'd do a short writeup on StreetPass Brisbane's first meet yesterday (if you don't know what StreetPass is, check out my post on it here).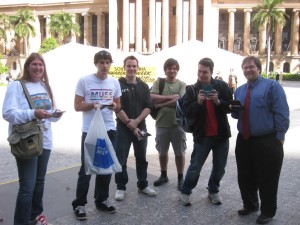 Thanks to everyone who was able to make it to our first meetup!
The weather on Saturday was perfect for having a meetup–sunny but not too hot. Shaun and I set up camp at a bench in King George Square, and within a few minutes our first couple of attendees showed up. Everyone was super friendly and it was fun to finally meet the people behind some of the Mii's I had collected over the past few weeks. We mostly chatted, collected puzzle pieces and battled for hats in StreetPass Quest (did you know it's called Find Mii on my US system and StreetPass Quest on all of the AU systems? I didn't!). There were a few Street Fighter IV battles and I loaded up Nintendogs + Cats to see what presents my corgi puppy had acquired.
It was great to see various people swing by over the course of the hour; some had heard about us at the Pokemon championship in Chermside last weekend, others found the Facebook page while searching for a StreetPass group in their area, and some had read the news article on the Aussie-Nintendo website and decided to stop by. All in all, I believe 9 people attended, but we even had a few random StreetPass hits from people walking by! Though it would've been nice to see a few more people, I still think it was a good start, especially since I had organized the meetup back when the Facebook page had only 10 fans (we have close to 50 now!). With the amount of support and enthusiasm we're getting from everyone, I can only imagine that our next meetup will be even better!