This week on Chic Pixel Plus I'm joined by Andrew of The Menu Bar podcast for a very special crossover episode… The Pixel Bar!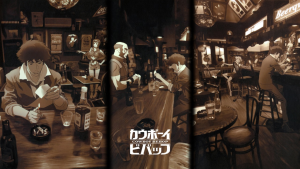 In honor of The Menu Bar (which I highly recommend if you're interested in Apple and general tech discussions, among other things) we start things off a little differently by having some deep thoughts on podcasting and internet friendships. Then, it's east meets west as we swap manga and graphic novel recommendations, where I manage to actually make my favourite series sound infinitely less interesting than they actually are. We touch on everything from Paranoia Agent to Monster, Sandman to Blacksad and even have a quick discussion of one of our current mutual favourite cartoons, Adventure Time! Pour yourself a drink and pull up a chair…
Since I'm on vacation this week, I wasn't able to put in intro and outro music, but I promise the podcast is as fun content-wise as ever! In true Menu Bar spirit, we also ramble on for a good 10 minutes before the podcast "officially" starts, so I've chopped that bit out and added it in at the end for those interested in checking it out.