Podcast was super effective! Okay, that was the dumbest joke in the book, but this wouldn't be Chic Pixel if I didn't throw in some bad puns or blatant video game references, right? Besides, I've always wanted to type "a wild husband appears!" But I'm not just typing it – he really did! That's right, I finagled my benevolent husband Shaun to podcast with me this week (well, nearly two weeks ago now, but who's keeping track)!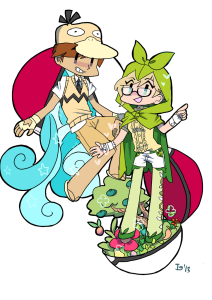 In this glorious fifth episode of Chic Pixel Plus (pronounce "plus" with a French accent to make it sound more cultured than it is) we chat all things anime and games… but mostly anime! Things start off with me grilling Shaun on his first and favorite anime and games as a way to introduce him to you lovely listeners (keep an ear out for when I call you "viewers" in the podcast). Then, not only do we give the 411 on currently airing series Free!, Shingeki no Kyojin, and Hunter x Hunter, but we also give our full impressions of an interesting little anime that aired earlier this year called Hataraku Maou-sama!.
Games discussion is limited to SteamWorld Dig (it's not Japanese shh), some brief news, and contemplation of the Final Fantasy XIV: A Realm Reborn phase four beta. Since that's already come and gone, that makes this podcast feel extra late!
Regardless, I do hope you find something interesting in this week's episode. As always, please leave any comments or questions here, and make sure to speak up if you like Shaun as a guest… if you do, I may be able to arrange for him to make a regular appearance!
Time codes:
00:00:29 – Introductions, Shaun's first and favorite anime and games
00:19:08 – Little Witch Academia Collector's Edition preorders
00:21:27 – Hataraku Maou-sama! anime impressions
00:30:11 – Free! ep. 1-5 discussion (mild spoilers)
00:41:36 – Attack on Titan ep. 1-18 discussion
00:51:34 – New Hunter x Hunter anime discussion
01:00:09 – Game news: 
FFXIV: A Realm Reborn
 open beta, Culty's
Monster Hunter gunner guides
, Nintendo direct,
Senran
"boob ninja"
Kagura
 localization announcement
01:21:24 – SteamWorld Dig
01:34:52 – Closing remarks
Opening ♫ – Departure! – Hunter x Hunter
Closing ♫ – SLASH FREE – Free!
I'd also like to get some Q&A for future episodes, so shoot me your questions about anything nerdy or Japan related you like! If I get any, I'll be sure to answer them on the show. Thanks!