As you may know, I've dabbled in the realm of video game-related podcasts for a while now. I'm a cohost of the 
Nichiest Podcast Ever
with shidoshi and Bryan, I've appeared infrequently on
the Video Game Writers podcast
, and I even made a guest appearance on
the latest Gaymebar function
. But, while I love chatting about video games, I've long felt that there aren't many good podcasts out there that conduct discussions on a variety of Japanese entertainment, particularly anime/manga and games.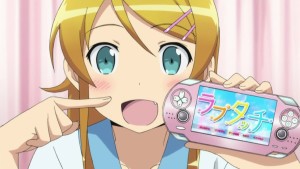 So, what's a blogger to do? Start her own podcast, of course! My latest endeavor, Chic Pixel Plus, will act as a kind of supplement to this blog, and in it I hope to discuss all manner of fun Japan-related things with each of my bi-weekly guests.
On this week's pilot episode, I'm joined by special guest Elliot Gay of Japanator and the Red Sun Gamer podcast for a discussion of Kyoto Animation's newly-announced anime Free!, what spring season anime we're watching, and a few video game-related tidbits including a discussion of just what is up with Compile Heart's Fairy Fencer F, old-school Ys, and the 3DS eShop game Crimson Shroud. We also get our fangirl on over a rather interesting obsession… Japanese GBA games boxes!
If that sounds up your alley, please give the episode a listen below! You can also download it directly onto your computer, if you prefer, or even manually subscribe on iTunes by adding the RSS feed.
0:11 – A new challenger appears
3:00 – (fujoshi heaven) Free!
11:40 – Shingeki no Kyojin – Attack on Titan (watch on Crunchyroll)
27:43 – Suisei no Gargantia – Gargantia on the Verdurous Planet (watch on Crunchyroll)
37:18 – Aku no Hana – Flowers of Evil (watch on Crunchyroll)
53: 37 – Video gaemz? Fairy Fencer F
1:02:19 – Ysssssss
1:10:05 – Crimson Shroud
1:12:22 – omg GBA boxes
1:20:12 – closing remarks
Opening ♫ Honeybee Manor – Final Fantasy VII
Ending ♫ Guren no Yumiya – Shingeki no Kyojin
Since this is my first time recording and editing a podcast, I'd really appreciate your feedback! Is the sound okay? Are the topics interesting? Do I say "um" too much? Please let me know what you think, and look forward to a new episode with a different guest in two weeks!