It's a bird! It's a plane! It's another episode of Chic Pixel Plus! To the surprise of everyone, including me, I've managed to get the second episode of my new podcast out the door on schedule. Sure, considering I called the first episode the pilot this technically is only episode one, and I managed to completely botch my opening and closing remarks, but we all have to start somewhere, right?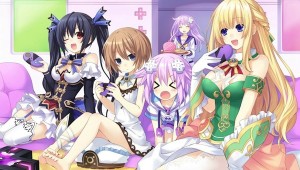 This week I'm joined by Matt Sainsbury of DigitallyDownloaded to discuss a particular niche of Japanese games often dubbed "otaku games." Together, we hash out what makes these games appealing, why they tend to have a bad rep outside Japan, and what our favorite otaku games are. Of course, with the recent Xbox One reveal, we couldn't help but add some of our thoughts, and I took the time to gush about the recent Guilty Gear Xrd -SIGN- announcement. Even if you're not a fan of otaku games, be sure to tune in – you might learn something new!
Time codes:
0:00:25 – introductions
0:01:48 – what are otaku games?
0:09:00 – Love Plus
0:19:15 – Photo Kano Kiss + Photo Kano anime
0:34:00 – Atelier series (Arland trilogy + Ayesha)
0:46:10 – Hyperdimension Neptunia series
0:59:45 – hurdles of publishing otaku games outside Japan, Mugen Souls, otome games
1:09:40 – upcoming otaku games (Time and Eternity)
1:13:48 – news! Xbone, Guilty Gear Xrd -SIGN-, BlazBlue anime, Freedom Wars
1:26:21 – closing remarks
Anne Lee || Chic Pixel || @apricotsushi
My Xbox one thoughts are included in this compilation of staff impressions at VGW
Matt Sainsbury || Digitally Downloaded || @DigitallyDownld
Matt's Xbox one reaction piece
Opening ♫ Koi suru lens – Photo Kano
Ending ♫ Dimension tripper!!!! – Hyperdimension Neptunia The Animation
This time around I used a different program to record the audio, and unfortunately I don't think it turned out as well. Since I'm still getting the hang of all this, your feedback would be greatly appreciated!