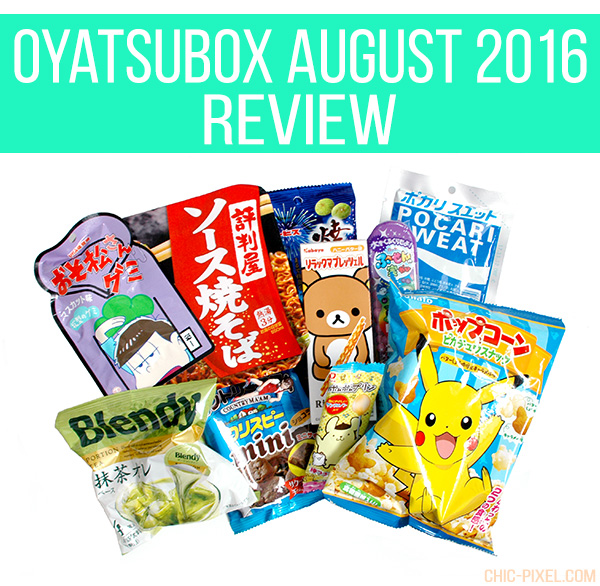 Oh my, is it really the end of September already?! Wait, winter, come back! (or summer, if you're a friend in the Northern Hemisphere) Today I'm going to relive August through this very overdue OyatsuBox review, which includes not one, but two cool summer drinks! Even though they probably planned that for customers who were in the height of summer in August, cool drinks are perfect for me now here in Brisbane, where things are just starting to heat up. But regardless of what season it is, I'm always up for some tasty snacks!
Wow, so many awesome goodies! If it isn't obvious, I was thrilled to see so many snacks featuring my favorite characters in this OyatsuBox. I'm always asking for more character snacks!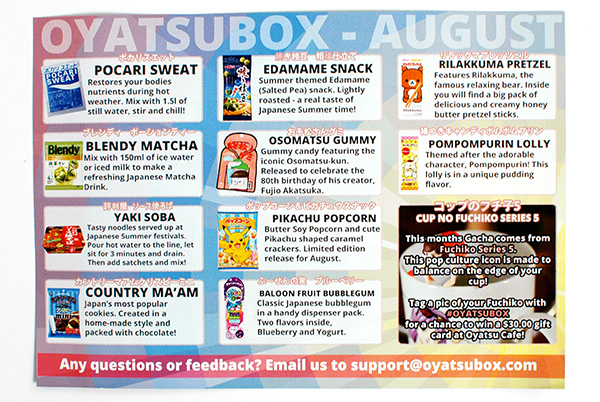 I always forget to take a close-up photo of the pamphlet OyatsuBox includes, but not this month! As you can see, they put a lot of effort into the presentation, and the information is great if you're not familiar with some of the snack. They also hold a contest every month where you can post a photo of your gachapon and tag it #OyatsuBox for a chance to win a $30 gift card to their partner snack shop, Oyatsu Café. How cool is that!
This month was slightly different from past months, as it seems OyatsuBox has gotten rid of its previous box structure. Before, I was receiving a Premium box, but now they are offering a $14 Dagashi (retro Japanese snacks) box, $25 Washoku (Japanese-style snacks and tea), and $25 "OyatsuBox." Since the main OyatsuBox is the only one that comes with a gachapon, its safe to say that's what I received, but I was surprised I didn't get any notification that they were changing their format. I do like that you can subscribe to a dagashi-themed box now, though, as I really liked July's Dagashi Edition box!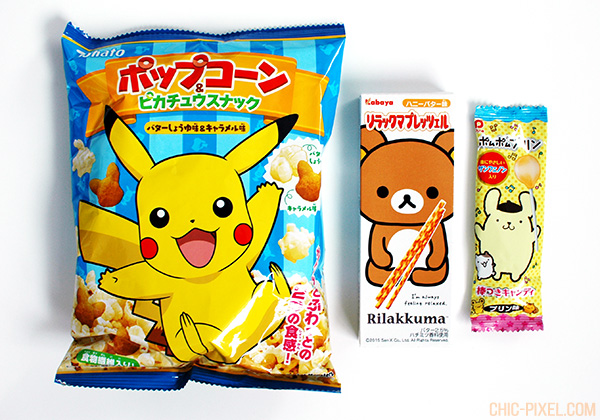 But enough talk… On to the snacks! This image is seriously all of my favorite things, as I totally adore each of these characters. I love that the Pikachu popcorn actually contained Pikachu-shaped caramel puffs! And the Rilakkuma honey butter pretzel sticks were not only delicious, but the packaging when you opened the box was adorable, too!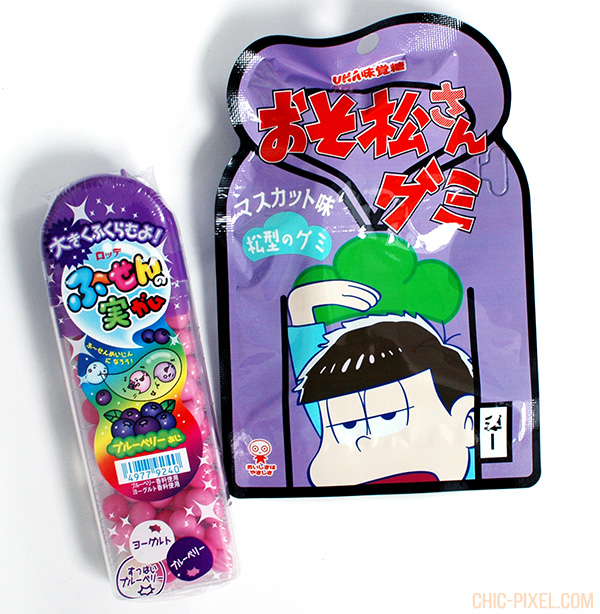 This picture features all things purple, but of particular interest is the Ichimatsu gummies! I love that I got my favorite of the Matsu brothers, the emo cat lover Ichimatsu. My gummies were grape flavored, but it looks like they're a different flavor depending on which brother you got!
The gum on the left was surprisingly tasty, too. The little pellets came in three different flavors: yogurt, blueberry, and sour blueberry. To be honest, it was only after I'd tossed a bunch in my mouth that I realized the different colors meant they were individually flavored. Whoops!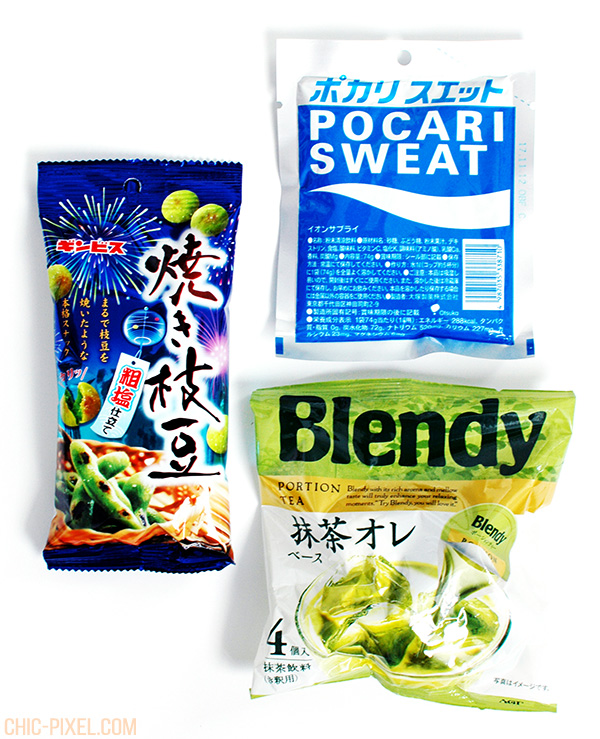 And now for the drinks! I mentioned in the unboxing that I'm not a big fan of Pocari Sweat, but it will still be fun to mix it up and share with friends! I'm super excited for the iced matcha Blendy, though, because I've had hot versions of Blendy instant lattes and really enjoy them. This bag contains four capsules that you mix with milk to make an iced matcha latte. Neat!
It's not a drink, but on the left is a fun summer-themed edamame snack that I happily devoured because I love anything edamame-flavored. I really dig the festive summer packaging!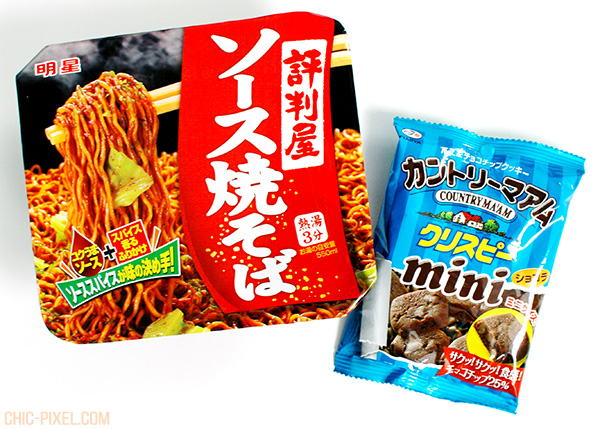 It was great to see an instant noodle snack in the August OyatsuBox for something a little more filling. I actually ate these yakisoba for lunch one day, and while the flavor was alright, it was a bit weird to have so much water in yakisoba. (all the yakisoba I've ever had wasn't exactly soupy…) I definitely followed the instructions carefully, too! Oh well.
The chocolate Country Ma'am cookies were definitely a hit, though. I'm already a big fan of the brand, but I'd never had this flavor before. I'll never say no to chocolate!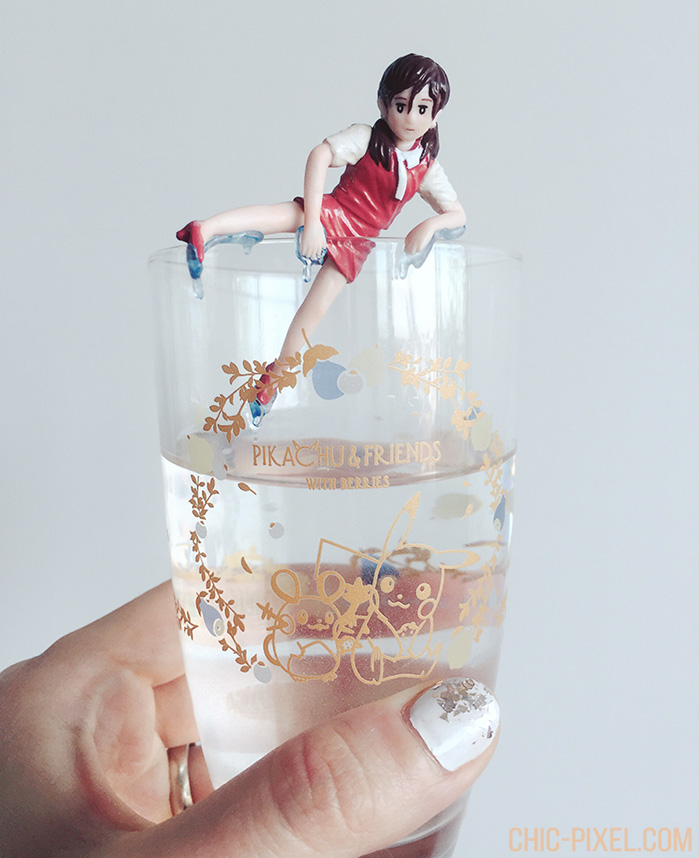 Finally, the August gachapon theme was Fuchiko, an adorable office lady who's always hanging off cups. I love that the one I got looks as if she fell in and is soaking wet! The detail they put into cheap, small gachapon figures is really impressive.
This may be the end of my August OyatsuBox review, but since it's already the end of September, expect the next review and unboxing to come very soon. I hear it's Pokémon-themed, so I'm very excited! OyatsuBox continues to offer a great selection of items for just $25 including shipping per month, and they keep getting better!
Chic Pixel is a monthly OyatsuBox reviewer. While I was provided a Premium OyatsuBox at no charge, this review reflects my authentic opinion of the product.