Anyone remember the Touch Detective series for the Nintendo DS? No? Well, if you don't, don't feel bad, as they pretty much went unnoticed by most of the gaming populace. Funnily enough, however, the cute mushroom "mascot" of the game, Funghi, or Nameko in Japanese, has recently taken the nation by storm, and I highly doubt most of the people consuming the plethora of character merchandise actually know where it came from.
Funghi's gotten so popular, in fact, that he's spawned a strangely calming little mushroom cultivation app for mobile devices, as well as a match-three-esque puzzle game that you can play a sample of online here. Very soon, fans will even get to play the puzzle game on their 3DS's! So, while Touch Detective drifts into the unknown, Funghi's superstar status continues to propel him forward. It's funny how some things take off unexpectedly, isn't it?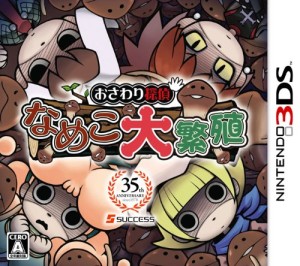 Funny how a game based solely on the popularity of a minor
character is celebrating developer Success' 35th anniversary
Of course, any cute character that's anyone gets a Hello Kitty crossover at some point or another, and Funghi is no exception. Spurred on by my recent acquisition of a copy of the December 2012 issue of the Japanese version of Seventeen magazine, I thought I'd share some of the weirdly adorable Hello Kitty designs featured in its pages. I think it's pretty obvious by the two page spread and the fact that the free pouch that came with the issue is plastered with Hello Kitty x Funghi that the collaboration has proben to be quite popular with the young female crowd!
Even the bag the freebie comes in is cute! I wonder what the significance of apples is, though… (you'll see more of them later)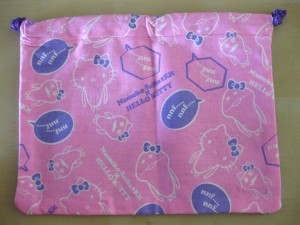 Side A of freebie pouch
I always found it a little creepy that the sound Funghi makes is "nnf nnf"…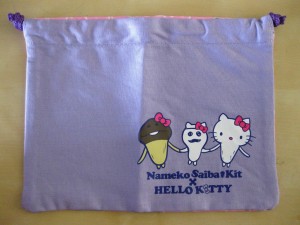 Side B of freebie pouch
Closeup of the decal on the front. Apparently this marks the first time Hello Kitty has appeared without any clothes on. And what on earth is that thing in the middle?
Two page spread featuring Funghi x Hello Kitty merchandise. Be sure to click on the image to see a larger version!
My favorite thing about the Funghi phenomenon is all the different Funghi varieties there are! I especially like the fuzzy purple Funghi-wearing Hello Kitty shown above.
I should probably actually read the descriptions surrounding all of these illustrations, because I have absolutely no idea what apples and pharaohs have to do with Funghi. Either way, it's pretty cute!
Finally, here's but a small sample of the Funghi x Hello Kitty merchandise available in Japan.
Food for thought/Additional information:
Success, the developers of Touch Detective and Touch Detective 2 1/2, did Zoo Keeper and Izuna: Legend of the Unemployed Ninja for the DS!
Not only can you buy Touch Detective and Touch Detective 2 1/2 in English on iOS devices, but Mushroom Garden/Funghi Gardening Kit and Mushroom Garden: European Winter are available for both iOS and Android devices for free! Go check them out! They've taken Japan by storm, and I, too, have been sucked in by the charm of Mushroom Garden: European Winter (I think it has something to do with the snow)
The Funghi mobile games are done by a company called Beeworks Games, who also happen to have a Facebook page where they post far too many cute Funghi pictures
Alternatively, you could go to the main Funghi website (Japanese only) if you wish to truly understand the reach this weird little mushroom character has